EUGENE J. CANTY, LTJG, USN
From USNA Virtual Memorial Hall
Birthdate & Date of Loss
| | |
| --- | --- |
| Date of birth: | May 18, 1919 |
| Date of death: | July 10, 1943 |
| Age: | 24 |
Lucky Bag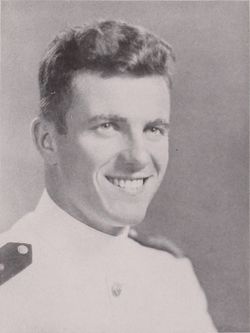 From the 1943 Lucky Bag:
EUGENE JOHN CANTY

Somerville, Massachusetts

This genial Irishman left the Marine Corps Reserve unit at Boston College to enter the academy, where he has been a versatile athlete, participating in battalion basketball, football, track, B squad basketball, company softball, golf and tennis. Although frequently vowing, "I'll never drag blind again!" he always did. As he got along very well with all girls, he very nearly became a snake. When not busy with sports or dragging, his time was occupied by the Boat Club, reading or sleeping. Gene's high sense of decency and good-natured cheerfulness should take him far towards a successful career.
The Class of 1943 was graduated in June 1942 due to World War II. The entirety of 2nd class (junior) year was removed from the curriculum.
Loss
From Find A Grave:
24 year-old son of Eugene Martin Canty of the Somerville Police Dept, and the late Mary Ellen Sullivan; loved brother of John, James (Jim), Lawrence, and Frank.

LtJg. Eugene John Canty, class of 1943, was one of two hundred ten officers and men who gave their lives when USS Maddox (DD 622) was hit and sunk by German aircraft in the Mediterranean Sea off the coast of Gela, Sicily.
His parents were listed as next of kin.