HUGH D. HAMILTON, LTJG, USN
From USNA Virtual Memorial Hall
Birthdate & Date of Loss
| | |
| --- | --- |
| Date of birth: | June 5, 1919 |
| Date of death: | September 11, 1943 |
| Age: | 24 |
Lucky Bag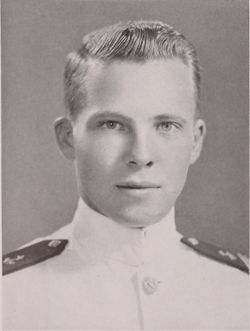 From the 1943 Lucky Bag:
HUGH DALE HAMILTON

Sherman, Texas

Ask "Ham" and he'll tell you, "If you've never been to Texas, you haven't lived," and he means it. His smiling nature and broad sense of humor marked him as everyone's friend, making him an ideal Committeeman. Ham was always ready to help anyone with math or skinny, and if a prob could be worked, he'd work it. Stars on his collar proved this. Strangely, he was not a team man; preferring to pass from one sport to another as the seasons passed and the mood struck him. Ham didn't drag very often until he got back to his beloved Texas, but then—well, just ask anybody around Sherman!
The Class of 1943 was graduated in June 1942 due to World War II. The entirety of 2nd class (junior) year was removed from the curriculum.
Loss
Hugh was one of 197 officers and crew lost when USS Savannah (CL 42) was struck by a German radio-controlled Fritz X glide-bomb on September 11, 1943 while providing gunfire support for the landings at Salerno, Italy.
He was survived by his "parents; brother, Robert (1913-1968); and sister, Bobby Ruth Hamilton Crosby (1925, Dorchester, Texas-2016, Richmond, Virginia)."
Hugh has a second memory marker in Arlington National Cemetery.