WILEY T. MACKIE, LTJG, USN
From USNA Virtual Memorial Hall
Birthdate & Date of Loss
| | |
| --- | --- |
| Date of birth: | July 13, 1920 |
| Date of death: | September 11, 1943 |
| Age: | 23 |
Lucky Bag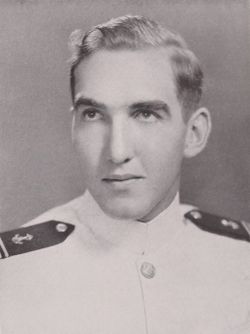 From the 1943 Lucky Bag:
WILEY THEODORE MACKIE

Gastonia, North Carolina

Mack entered the academy as an ultra conservative son of North Carolina, but a great transformation soon took place and it soon was difficult to find him not smilingly contemplating some mischievous scheme. Wiley was not exactly a snake but was usually dragging blind for his roommates. His only vice was a mania for hot swing records, of which he had quite a collection. His every afternoon was spent on the track. Though not spectacular, his spirit and determination made the miles go faster. As his stars proclaimed, academics were no problem. A real gentleman, we were proud to have Mack's companionship along the sea of life.
The Class of 1943 was graduated in June 1942 due to World War II. The entirety of 2nd class (junior) year was removed from the curriculum.
Loss
Wiley was one of 202 officers and men lost when USS Rowan (DD 405) sank in less than a minute following a torpedo hit from a German E-boat in the Gulf of Salerno early on the morning of September 11, 1943.
He has a memory marker in North Carolina. His father was listed as next of kin.