FOLLETT BRADLEY, JR., 1LT, USA
From USNA Virtual Memorial Hall
Follett Bradley, Jr. was admitted to the Naval Academy from Texas on June 19, 1934 at age 17 years 10 months.
Lucky Bag
"Follett Bradley, Jr.," from Texas, is listed in the 1938 Lucky Bag on the page "Victims of the System: Third Battalion".
He resigned from the Naval Academy on May 14, 1936, he was "Recommended for dismissal. Resignation accepted."
Loss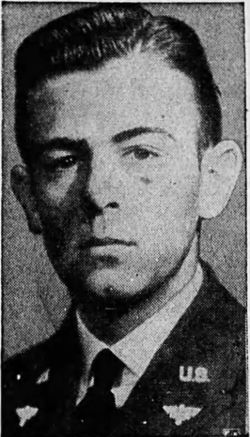 From Arlington National Cemetery.net:
U.S. OBSERVER IN BRITAIN KILLED IN PLANE ACCIDENT
WASHINGTON, June 24, 1941

The death of Lieutenant Follett Bradley, Jr., 24 years of age, of the United States Air Corps, on Sunday in an airplane accident near Catterick, Yorkshire, England, was announced by the War Department today.

Lieutenant Bradley, who was among the junior officer observers sent to Britain last April, is the son of Brigadier General Follett Bradley, who is on duty at Borinquen Field, Puerto Rico.

No details of the accident that caused the young officer's death were made public.
Built for USAAF as B-17C 40-2053. Diverted to RAF as AN522 on 19 February 1941. Crashed 22 June 1941: Royal Air Force Boeing Fortress I, AN522, of No. 90 Squadron, RAF West Raynham, flown by F/O J. C. Hawley, breaks up in mid-air over Yorkshire during a high altitude flight experimental flight.

Sole survivor, Bill Stewart, a medical officer from RAE Farnborough, reports that the bomber entered a cumulo-nimbus cloud at 33,000 feet (10,100 m), became heavily iced-up with hailstones entering through open gunports, after which control was lost, the port wing detached, and the fuselage broke in two at 25,000 feet (7,600 m).

Survivor Bill Stewart, who was in the aft fuselage, was able to bail out at 12,000 feet (3,700 m).
He had been in England "about a month" and is buried in Arlington National Cemetery. He was survived by his father, Follett Bradley, Sr. USNA '10; his mother seems to have died when Follett, Jr. was about 10 years old.
Memorial Hall Error
Follett is not listed with his classmates in Memorial Hall. This omission was discovered while reviewing the January-February issue of Shipmate, which mentioned him in passing while discussing his father's career.
The Register of Alumni lists the date he was reported lost (6/24/1941), his rank, "Yorkshire, England" and USAF (though this organization didn't exist until several years after he died).
Follett is one of 71 members of the Class of 1938 on Virtual Memorial Hall.