HARVEY W. MOORE, JR., LT, USNR
From USNA Virtual Memorial Hall
Date of birth: October 31, 1914
Date of death: April 3, 1943
Age: 28
Harvey Wilson Moore, Jr. was admitted to the Naval Academy from North Carolina on June 21, 1934 at age 19 years 8 months. He resigned on February 12, 1936; "Deficient in studies, first term's work. Recommended to be dropped. Permitted to resign."
Biography & Loss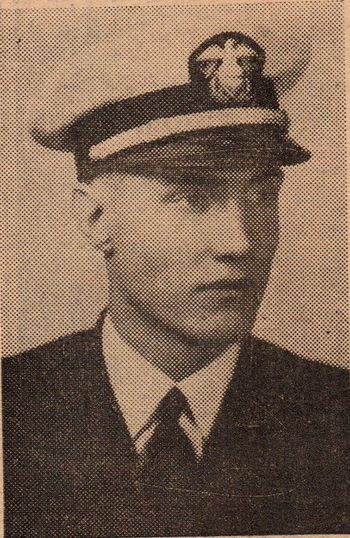 From researcher Kathy Franz:
Harvey was lost when USS Pickerel (SS 177) was sunk by Japanese vessels north of Honshū on April 3, 1943.

Harvey attended the McCallie School in Chattanooga, Tennessee, Davidson College, the Naval Academy, and the Philadelphia Textile School. He served in the New York National Guard from March 1939 to September 1940 and worked in the Rayon Department at J. P. Stevens & Co. Upon joining the Navy, he was assigned to a destroyer. He later requested submarine duty and attended the Navy's Submarine Warfare School at New London, Connecticut.

His father Harvey was a manager of the Brown Cotton Mills of Concord, a former mayor of Charlotte, and a trustee of Davidson College. His mother was Lucy, and his sister was also Lucy, Mrs. Thomas Grasty. On September 20, 1942, he married Mary Spalding Stewart, daughter of retired Commander & Mrs. Lawrence Stewart.
Harvey's wife sponsored USS Spikefish (SS 404), and welded the sponsor's christening plate on herself. She later remarried to another naval officer. Harvey's parents also survived him.
He has a memory marker in North Carolina.
Career
The 1943 USNR Officer Register lists Harvey as a Lieutenant with a date of precedence of 12/1/42, and pay service (a calculation that would have taken into account his time as a midshipman) as one year, ten months, and four days. He does not appear in the 1941 edition of this publication, and we have been unable to locate the 1942 version.
Memorial Hall Error
Harvey is not listed with his classmates nor on the killed in action panel in the front of Memorial Hall. This omission was discovered by researcher Kathy Franz.
Harvey is one of 72 members of the Class of 1938 on Virtual Memorial Hall.
The "category" links below lead to lists of related Honorees; use them to explore further the service and sacrifice of the alumni in Memorial Hall.