FRANCIS C. MULVANITY, ENS, USN
From USNA Virtual Memorial Hall
Birthdate & Date of Loss
| | |
| --- | --- |
| Date of birth: | November 18, 1921 |
| Date of death: | November 15, 1942 |
| Age: | 20 |
Lucky Bag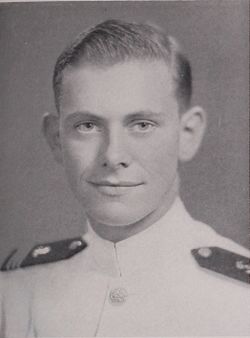 From the 1943 Lucky Bag:
FRANCIS CREIGHTON MULVANITY

Nashua, New Hampshire

"Mouse," or "Silky," as he is known by his many friends, is distinctive for his amazing sense of humor. His never-failing felicity and wit, coupled with this sense of humor, have been a constant sourse of enjoyment to his classmates, in class as well as in the hall. He possesses a unique ability to make and keep friends, is a good sport, and has a pleasant word for everyone he meets. During plebe and youngster years, the Radio Club, Boat Club, and Movie gang made up his activities. His favorite memories are of Youngster Cruise, where he made most of his friends. Every man aboard the Arkansas knew "The Mouse."
The Class of 1943 was graduated in June 1942 due to World War II. The entirety of 2nd class (junior) year was removed from the curriculum.
Loss
From Find A Grave:
Nephew of Miss. K. J. Mulvanity.

Francis served as a Ensign, U.S.S. Walke (DD-416), U.S. Navy during World War II.

He resided in Hillsborough County, New Hampshire prior to the war.

The Walke was sunk in the Naval Battle of Guadalcanal when a "Long Lance" torpedo slammed into her starboard side at a point almost directly below mount 52. Almost simultaneously, a salvo of shells from the Japanese ships Nagara, Ayanami, and Uranami hurtled down upon the hapless destroyer. Soon the order was given to abandon ship and the Walke sank rapidly.

Walke lost 82 of her crew and six officers, including the ship's Commander Thomas E. Fraser.

Francis was declared "Missing In Action" in the sinking of the Walke.

He was awarded the Purple Heart.
USS Walke (DD 416) was sunk on November 15, 1942 at the Naval Battle of Guadalcanal.