JOHN L. DONEFF, ENS, USN
From USNA Virtual Memorial Hall
Birthdate & Date of Loss
| | |
| --- | --- |
| Date of birth: | February 12, 1920 |
| Date of death: | November 30, 1942 |
| Age: | 22 |
Lucky Bag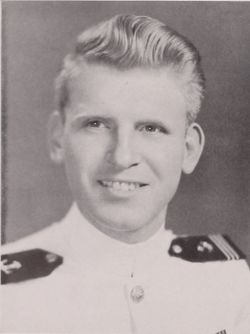 From the 1943 Lucky Bag:
JOHN LINCOLN DONEFF

Newark, Ohio

"Sound off Mister." "Midshipman Bucket, fourth class, Sir!" And so by a slip of the tongue. John became "Bucket"' to us, but in name only. His fine academic record hints of future progress in the Air Corps, his greatest aspiration. Always on the go, he was never too busy to work that prob." On weekends at Dahlgren he could usually be found impressing someone's drag with "I'm just a clean cut kid." His card tricks stumped us, but selling suits a la Robber's Row was his specialty. Bucket's industry, sense of humor, and willingness to lend a hand will admit only of success in the fleet.
The Class of 1943 was graduated in June 1942 due to World War II. The entirety of 2nd class (junior) year was removed from the curriculum.
Loss
John was one of seven officers and 118 crew lost aboard USS Pensacola (CA 24) at the Battle of Tassafaronga when the ship was heavily damaged by a torpedo and gunfire.
He had reported aboard on July 16, 1942.
His parents were listed as next of kin.
Namesake
USS Doneff (DE 49) is named in John's honor.