WILLIAM W. WILLIAMS, ENS, USN
From USNA Virtual Memorial Hall
Birthdate & Date of Loss
| | |
| --- | --- |
| Date of birth: | January 8, 1920 |
| Date of death: | February 7, 1943 |
| Age: | 23 |
Lucky Bag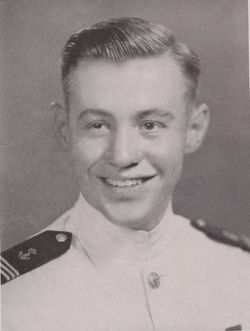 From the 1943 Lucky Bag:
WILLIAM WADSWORTH WILLIAMS

Potter Valley, California

His red hair, freckled face, dimpled cheeks, and ready smile indicated that Bill was an athlete, a ladies' man, and a "savoir" all rolled into one. His numeral covered bathrobe readily signified his ability in both plebe and varsity lacrosse and soccer. Bill's locker door, covered with pictures, boasted of his feminine attraction—snaking and jitterbugging were his specialties. And, as his grades revealed, Bill was a savoir, a real star man. He was fond of reading or talking, in fact, he was always ready to tell anyone about deer hunting, sheep raising, Northern California, or W. W. Williams.
He was a member of the soccer team and of the lacrosse team.
The Class of 1943 was graduated in June 1942 due to World War II. The entirety of 2nd class (junior) year was removed from the curriculum.
Loss
William was killed by small arms gunfire while serving as the junior officer of the deck aboard USS Growler (SS 215) on February 7, 1943.
Related Articles
Howard Gilmore '26 was also lost in this action; CDR Gilmore was awarded the Medal of Honor.