FREDERICK J. BLODGETT, LTJG, USN
From USNA Virtual Memorial Hall
Birthdate & Date of Loss
| | |
| --- | --- |
| Date of birth: | unknown |
| Date of death: | February 18, 1952 |
| Age: | unknown |
Lucky Bag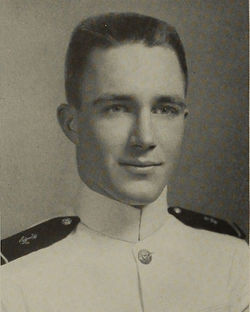 From the 1949 Lucky Bag:
Frederick J. Blodgett

ST. PAUL, MINNESOTA

When those little white leave cards were issued, one could always find Jeff hurrying happily homeward — usually via a roundabout route to include all the young ladies whom he classified as only casual acquaintances. Jeff was quite proud of his home state and was always ready to expound the exploits of the University's Golden Gophers. He should know, too, because he performed quite creditably for three years on an undefeated Navy 150-pound football team. Fully realizing that fun and pleasure are of equal importance with work and study, Jeff could usually be enticed away from his books for a little card game or a workout in the gym. He leaves behind many friends after four years of association.
Jeff was a member of the 150 lb football team.
Loss
From McKinney Daily Courier-Gazette (Texas) on February 20, 1952:
The Corpus Christi air station has identified the six Navy airmen who were killed when two training planes collided in mid-air near Rockport, Tex. Victims were listed as Ensign Mahlon Devere Busha, Jr.. of Sherwood. Ore.; Lieut. Cmdr. M alter Thomas Fitzpatrick. Jr.. Texarkana, Lieut. (JG) Frederick Eugene Arthur of Redwood. Calif., Ensign Neil August Armstrong II of Chalmette, La., First Lieut. Robert Wendell Helding, Marine Corps, Janesville, Wis., and Lt. (JG) Frederick Jeffrie Blodgett of St. Paul, Minn.
He is buried in Minnesota.
Related Articles
Robert Helding '48 was also lost in this crash.