FREDERICK W. CAESAR, III, LTJG, USN
From USNA Virtual Memorial Hall
Frederick Caesar, III '73
Lucky Bag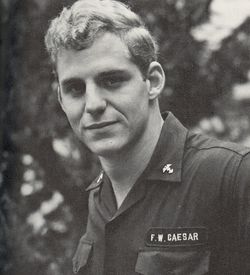 Loss
From Coast Guard Aviation Casualties:
Date of incident: 20 January 1977

Crash related deaths:
LTJG Frederick William Caesar, III, USN
LTJG John F. Taylor
AT2 John B. Johnson
Bill S. Simpson (Civilian Observer)

Air Station the aircraft and/or crew were assigned to: Air Station Chicago, IL

Aircraft type and Coast Guard tail number: Sikorsky HH-52A Seaguard, 1448 *

Location of the incident: Illinois River

Description of the incident: This crew was performing and aerial ice patrol along the Illinois and Mississippi rivers. They struck three electrical transmission wires and crashed into the ice-filled river.
Frederick is one of 10 members of the Class of 1973 on Virtual Memorial Hall.