FRED H. COVINGTON, LCDR, USN
From USNA Virtual Memorial Hall
Fred Hargrave Covington was admitted to the Naval Academy from North Carolina on August 21, 1933 at age 18 years 9 months.
He was originally a member of the class of 1936. On February 7, 1933 he was "deficient in studies; required to resign." He was readmitted with the Class of 1937.
He resigned a second time on May 28, 1934; he was "deficient in studies; required to resign."
Loss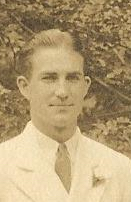 From Find A Grave:
Ensign F. H. Covington, USNR, was designated Naval Aviator #6516 in 1940. Entered active service via the pre-war Aviation Cadet (AVCAD) program.

Lt. Cmdr. Covington was killed, along with four others, as a result on having to parachute on a foggy night into the Potomac River as a result of an aircraft malfunction. Two others survived the jump. The empty aircraft itself crashed near Indian Head, MD. Details reported in various newspapers on Nov. 14-15, 1945.
He is buried in North Carolina. Fred was survived by his parents and six siblings.
Career
Fred was commissioned as an Ensign, USNR AV(N) on March 25, 1940. He was a LTJG flying with Cruiser Scouting Squadron (VCS) 5 aboard USS Northampton (CA 26) on December 7, 1941. He was promoted to LT on October 1, 1942.
Other
He is listed as an alumni of Davidson College Class of 1934.
Fred is one of 45 members of the Class of 1937 on Virtual Memorial Hall.