FRED H. COVINGTON, LCDR, USN
From USNA Virtual Memorial Hall
Fred Hargrave Covington was admitted to the Naval Academy from North Carolina on August 21, 1933 at age 18 years 9 months.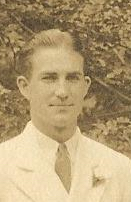 He was originally a member of the class of 1936. On February 7, 1933 he was "deficient in studies; required to resign." He was readmitted with the Class of 1937.
He resigned a second time on May 28, 1934; he was "deficient in studies; required to resign."
Loss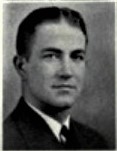 From Find A Grave:
Ensign F. H. Covington, USNR, was designated Naval Aviator #6516 in 1940. Entered active service via the pre-war Aviation Cadet (AVCAD) program.

Lt. Cmdr. Covington was killed, along with four others, as a result on having to parachute on a foggy night into the Potomac River as a result of an aircraft malfunction. Two others survived the jump. The empty aircraft itself crashed near Indian Head, MD. Details reported in various newspapers on Nov. 14-15, 1945.
He is buried in North Carolina. Fred was survived by his parents and six siblings.
Career
Fred was commissioned as an Ensign, USNR AV(N) on March 25, 1940. He was a LTJG flying with Cruiser Scouting Squadron (VCS) 5 aboard USS Northampton (CA 26) on December 7, 1941. He was promoted to LT on October 1, 1942.
Other Information
From researcher Kathy Franz:
His brother James Madison graduated 1934 Davidson College. Fred graduated from U Michigan 1938. Member of the American Institute of Aeronautical Science.

When he died, Fred was carrying orders assigning him as naval aviation aide to the White House. His brother Lt. James, a USNR medical officer, assisted in the search.
From the Charlotte Observer on December 3, 1945:
Reports indicate that Lieutenant Commander Covington drowned in the Potomac after parachuting from the plane, the last of six occupants of the craft to bail out after the supply of gasoline became exhausted in attempts to land at fog-bound airports. Two of the six were rescued from the river.

After his graduation from Wadesboro High School, he attended Davidson college, and he was graduated in aeronautical engineering at the University of Michigan.

When Pearl Harbor was attacked … he was on duty there and downed a Japanese fighter plane. For his heroic exploit at Pearl Harbor, he received a citation from Admiral Chester W. Nimitz.

In April 1945, he was appointed naval air aide to President Truman. Recently as a representative of the Navy he placed a wreath on the tomb of the Unknown Soldier in Arlington cemetery, at historic ceremonies.

Surviving … five brothers Major William Dunlap and Lt. McRae … on way home from European theater of war; Lt. James … stationed at Camp Lejeune; Lt. J. J. and private Richard who have returned home; and sister Eloise.

His parents were Dr. and Mrs. James M. Covington, Wadesboro, N.C.
He is listed as an alumni of Davidson College Class of 1934.
The "Register of Commissioned and Warrant Officers of the United States Navy and Marine Corps" was published annually from 1815 through at least the 1970s; it provided rank, command or station, and occasionally billet until the beginning of World War II when command/station was no longer included. Scanned copies were reviewed and data entered from the mid-1840s through 1922, when more-frequent Navy Directories were available.
The Navy Directory was a publication that provided information on the command, billet, and rank of every active and retired naval officer. Single editions have been found online from January 1915 and March 1918, and then from three to six editions per year from 1923 through 1940; the final edition is from April 1941.
The entries in both series of documents are sometimes cryptic and confusing. They are often inconsistent, even within an edition, with the name of commands; this is especially true for aviation squadrons in the 1920s and early 1930s.
Alumni listed at the same command may or may not have had significant interactions; they could have shared a stateroom or workspace, stood many hours of watch together… or, especially at the larger commands, they might not have known each other at all. The information provides the opportunity to draw connections that are otherwise invisible, though, and gives a fuller view of the professional experiences of these alumni in Memorial Hall.
November 1940
Ensign, naval reserve, Cruiser Scouting Squadron (VCS) 5, USS Northampton
---
Others at or embarked at USS Northampton:
April 1941
Ensign, naval reserve, Cruiser Scouting Squadron (VCS) 5, USS Northampton
---
Others at or embarked at USS Northampton:
Class of 1937
Fred is one of 45 members of the Class of 1937 on Virtual Memorial Hall.
The "category" links below lead to lists of related Honorees; use them to explore further the service and sacrifice of alumni in Memorial Hall.