WILBUR J. MASON, LCDR, USN
From USNA Virtual Memorial Hall
Birthdate & Date of Loss
| | |
| --- | --- |
| Date of birth: | January 3, 1916 |
| Date of death: | June 1, 1944 |
| Age: | 28 |
Lucky Bag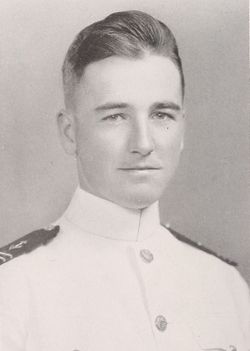 From the 1939 Lucky Bag:
WILBUR JEROME MASON

IRON RIVER, MICHIGAN

Bud, Rosy

When Bud left Iron River on Michigan's Upper Peninsula to come to the Naval Academy, he was the first man who had done so since 1899. He spent three years at Michigan Tech before a long sought-for appointment brought him to the Severn. Here Bud has become one of those fellows whom everybody knows, his rosy cheeks and mild disposition making him popular with all classes. He misses all the hops, as he is a redmike by choice. In his spare time, Bud is a Hill an' Daler of much ability, but in the offseason he can usually be found on the bowling alleys. His favorite indoor sport is cribbage. His scarcity of faults makes him an ideal friend and roommate.

Cross Country 4, 3, 2; Battalion Track 2; Indoor Track 4, 3; M.P.O.
Loss
Wilbur was lost when USS Herring (SS 233) was sunk by a Japanese shore battery on June 1, 1944. He was executive officer of the boat.
His brother was listed as next of kin.
He has a memory marker in Michigan.