FRED TROESCHER, JR., LTJG, USN
From USNA Virtual Memorial Hall
Birthdate & Date of Loss
| | |
| --- | --- |
| Date of birth: | unknown |
| Date of death: | December 16, 1953 |
| Age: | unknown |
Lucky Bag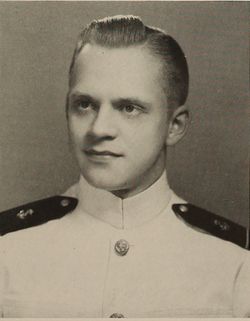 From the 1949 Lucky Bag:
Fred Troescher, Jr.

YOUNGSTOWN, OHIO

Fred (Atrocious) Troescher rolled into Navy via a musical scholarship from Valley Forge Military Academy. He joined the Forty-niners, our plebe band, and then entered the NA-10 and the Concert Band when '49 joined the brigade. Two years of jumping back and forth in the Musical Club Shows persuaded him to give up the Concert band in favor of the music column of the LOG. On cruise he always gave happy hours a boost with his smooth trombone. Fred also dabbled with the diodes, as a member of the Radio Club. He seemed able to always pop a pun just when the Execs' latest strategy had the boys bewildered. This trait also endeared him to the femmes, but he managed to keep them away, as was proved by his charter membership in the flying squadron.
Fred was a member of the Log staff.
Loss
Fred was lost in Typhoon Doris on December 16, 1953 when his PB-4Y crashed during low-level typhoon penetration. He was a part of Weather Squadron One (VJ-1).
From Weather Plane Lost in Typhoon Doris, December 16, 1953:
My squadron, Weather Squadron One (VJ-1) was the outfit that lost the crew on that flight.

Ltjg. Fred Troescher traded Duty Officer with me, as I was supposed to go out on that fatal flight. However, Fred called me the night before and asked if he could take the flight since the Air Force had been covering all the Typhoons for the past week or so.

Our squadron and the weather outfit from Anderson AFB had had some mix up in the flight and we damned near had a midair collision. Sooo, the AF decided it was best if only one outfit did the reconnaissance on the typhoon. Only that night the AF had trouble getting an airplane up for the flight and asked the navy to cover the typhoon.

When I reported for duty, I discovered that Crew One had left for the day's recco flight, covering that typhoon. If my memory serves me correctly, when we penetrated a typhoon we were to establish radio contact with base every 30 minutes. I think the Radioman working the Duty Radio that day was John Walpole. He was our radioman in our crew, Crew 2.

Lcdr Perc Kedigh was our Plane Commander, Scotty Jenkins was the copilot, and I the 2nd pilot and navigator. Wes Mellange was Plane Captain, I do not remember the rest of the crew, but I am sure some of the fellows in VJ-1 will be able to fill in the blanks.

Back to the flight: After John had not received any transmission from Crew One after the 30 minute time lapse, he notified me since I was Sqd Duty Officer. I reported the situation, no flight message for more then 30 minutes, to Perc. In turn we notified ComFairGuam, I think that's who we called, it's been 52 years and all the facts are not coming to the frontal lobe. I believe a meeting was held and the plan to start the search was put into play.

Anyway, the very next morning all the planes in our outfit were sent out to search the suspected, downed PB4Y-2. After, eight or nine days of 12-14 hour long flights searching for the missing aircraft, the search was called off. John J. Witten, August 2005
Other officers and crew of the aircraft:
Newhall, J. W. Cmdr (pilot) age 39
Marsden, S. B. Lt (co-pilot) age 29
Zimmerman, D. Jr. Lt. Cmdr. age 35
Troescher, F. Jr. Ltjg. age 26
Barnett, F. R. AL1 age 26
Clark, J. N. AD1 Age 32
Myer, E. L. AD3 age 20
Stephens, N. J. AL2 age 23
Stott, A. J. Jr. AO3 age 23
Family
From the obituary of his wife, Carolin:
… In 1950, she married Fred Troescher, Jr., a graduate of the United States Naval Academy. They had two sons, Scott and David, before Fred was killed on a naval air mission. … Fresno Bee on Sept. 20, 2015