GORDON G. STEWART, CAPT, USAF
From USNA Virtual Memorial Hall
Birthdate & Date of Loss
| | |
| --- | --- |
| Date of birth: | October 26, 1926 |
| Date of death: | January 14, 1954 |
| Age: | 27 |
Lucky Bag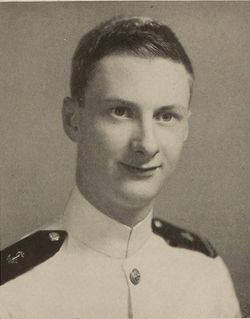 From the 1949 Lucky Bag:
Gordon G. Stewart

PEORIA, ILLINOIS

From Bradley College in Peoria, Stu came to the Naval Academy. A thorough student, he surmounted the academic obstacles and achieved a good all around average. In his effort to learn Russian, he joined the Russian Club, working to learn how to "talk to the Soviets." With his backlog of high school track, he naturally found a place in the running competition of the cross-country, and steeplechase squads. On cruise he alternated between hitting the sack and visiting places of interest in port. Not uncertain of himself, and containing an inert liking for the Naval service, Stu will probably be under Uncle Sam's supervision and direction for a good many years. His easy, unassuming manner and quiet resolve should aid him considerably in his work.
Loss
Gordon was lost when his B-26 crashed in North Africa while on a training exercise. One other crewman, his wing's executive officer, was also killed. (Two others survived.) He is buried in Arlington National Cemetery.