GEORGE E. TYLER, COL, USAF
From USNA Virtual Memorial Hall
Lucky Bag
From the 1953 Lucky Bag:
Loss
George was piloting a F-4D Phantom II on October 24, 1968 when it was hit by 57mm AAA near Phu Qui, five miles west of Dong Hoi. He did not survive the ejection, though his back-seater did and was rescued by a USAF helicopter.
Remembrances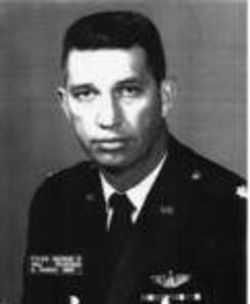 From Wall of Faces:
Uncle Ty you are missed. I often think about you and how much you mean to me.

When I was a young boy you placed me in the cockpit of a jet and spoke of flying.

We talked sports, played basketball and golfed a few times (you apologized for your language on occasion).

Your visit to my college in Dover, DE to watch my football scrimmage with Dad and the boys in 1967 is a day I will always remember. Seeing you and Dad on the sideline watching was inspirational-- I wanted to show you and Dad what I was made of.

I still have the Seiko watch that you bought me when you were on leave in Japan during the war. I have been reading a book that Trish bought me about Bud Day. In this book by Robert Coram, Bud Day explains that while in Japan for a briefing he buys a Seiko watch which had become the official squadron watch of the Mistys -- that got my attention. You can bet that I will cherish that watch forever.

Uncle Ty, everyone seems to be doing ok. Aunt Mary Claire is close by and I see her from time to time. In fact I hope to see her this Thanksgiving with mom.

Uncle Ty, you are in my thoughts often. You are missed and not forgotten.

Bill WILLIAM S. EMRICH JR., DCPEMRICH@AOL.COM, 11/25/08
Gus, I think of you and that last flight often, we looked for you but could not fine you, but you know that. RICH, 8/21/14
Rich- I am his daughter. Did you know him? TERESA, 8/21/14
Family
From Find A Grave, George's wife:
Mary Claire Tyler, 87, passed away September 3, 2015 at Scarborough Terrace Assisted Living, Scarborough ME. She was born July 16, 1928 at the family home in Annapolis MD to the late Louise King Shortt and Franklin Shortt. She was lovingly named after the two nurses that took care of her mother at the time of the birth. A lifetime resident of Annapolis MD, a 1945 graduate of Annapolis High School, and a past member of St. Mary's Catholic Church, Mrs. Tyler was a loving homemaker and worked as a Secretary at John M. Taylor Funeral Home, a telephone operator and Office Aide for the State of Maryland. She married her husband, the late George E. Tyler, a USNA Graduate and Air Force Pilot in 1953 on his graduation day. Colonel Tyler was listed as MIA in Vietnam in 1968. Mrs. Tyler is survived by her four children, Michael J. Tyler (Ann) of Cape Elizabeth, ME, Edward W. Tyler of Portland, OR, Teresa T. Langton of Newbury Park, CA, and Colleen M. Tyler of New York, NY; grandchildren, Andrew, Joseph, and Patrick Tyler; great grandchildren Cole and Wilson Tyler, sons of Andrew. A Funeral Service was held on Friday, September 11, 2015 at John M. Taylor Funeral Home, Annapolis, MD.

Published in The Capital Gazette on Sept. 13, 2015
George is one of 62 members of the Class of 1953 on Virtual Memorial Hall.