GERALD W. SIEBE, LTJG, USN
From USNA Virtual Memorial Hall
Lucky Bag
From the 1964 Lucky Bag:
Loss
Jerry was a pilot with Helicopter Support Squadron (HC) 1 who was killed in a major fire aboard USS Oriskany (CVA 34) on October 26, 1966.
Shipmate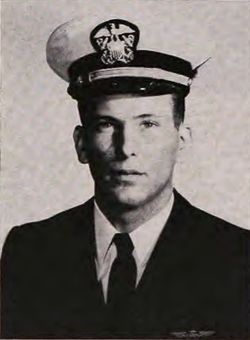 From the December 1966 issue of Shipmate:
Lt.(jg) Gerald W. Siebe, USN, was killed in the fire aboard USS ORISKANY in the South China Sea on 26 Oct He was serving with Helicopter Combat Support Squadron 1, based at the Naval Air Station, Ream Field, Calif., at the time of the accident.

Lt. Siebe was born in Belleville, Ill. He attended Illinois Institute of Technology before entering the Naval Academy, from where he was graduated in 1964. He completed flight training at Pensacola, and was designated a naval aviator in November 1965. He held the National Defense Service Medal and the Vietnam Service Medal.

Surviving are his widow Becky Ann of RR2 Mascoutah, Ill., and his parents, Mr. and Mrs. Stanley Louis Siebe, 102 E. South, Mascoutah.
In the same issue, in the Class of 1964 column:
Among the officers and men lost in the tragic fire aboard ORISKANY on 26 Oct. was our classmate Jerry SIEBE. Jerry came to the Naval Academy after a year of NROTC and electrical engineering at the Illinois Institute of Technology. At Annapolis, he became well known as the man from the 17th Company with a quick smile and a warm personality. As an "Angel" pilot aboard ORISKANY, several pilots have him to thank for being pulled from unfriendly waters. We join his parents and wife Becky of Mascoutah, Ill.,in the deep regret of this tragedy.
Memorials
Jerry is among those names on the Vietnam Veterans Memorial in Washington, D.C. As his loss was not due directly to hostile action, though, he does not appear in the VIetnam War section of the Killed In Action panel in Memorial Hall.
Related Articles
John Sweet '64 and James Roberts '64 were also in 17th Company.
Barry Hooper '64 was also on the Gymnastics Team.
It's possible he knew William Lawton '64, who was also aboard Oriskany for the 1966 Western Pacific deployment.
Clyde Welch '51 was also lost in the fire.
Gerald is one of 25 members of the Class of 1964 on Virtual Memorial Hall.