HARRY R. FLORY, JR., LTJG, USN
From USNA Virtual Memorial Hall
Birthdate & Date of Loss
| | |
| --- | --- |
| Date of birth: | January 18, 1929 |
| Date of death: | September 6, 1952 |
| Age: | 23 |
Lucky Bag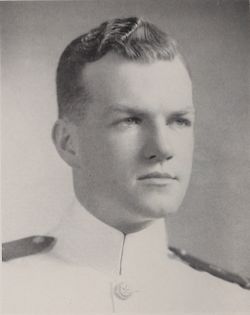 From the 1950 Lucky Bag:
HARRY RUSSELL FLORY, JR.

New York, New York

The son of an international journalist, Harry spent much of his youth in France and England. Back in the U. S. he decided in '44 that the Navy was to be his future. After two years in bell bottoms, he entered the Naval Academy. An ardent sailor, Rusty could be found almost any fall or spring afternoon on the Chesapeake. His knowledge of professional happenings and developments showed him to be a man who was interested in what he could give to the Navy. This reversal of the usual attitude marks him as a man to be reckoned with.
Loss
From The Salt Lake Tribune on September 8, 1952:
SAN RAFAEL, CAL., Sept 7 (UPI)—Navy Lt. (J.G.) Harry R. Flory Jr., 26, was killed when his FG-LD Corsair-type fighter plane crashed in an open field on the Clarence Rogers ranch eight miles north of there at approximately 4 p.m. (MST) Saturday.
The crash occurred on September 6, 1952. Harry is buried in Iowa.