HENRY KOLAKOWSKI, JR., CAPT, USMC
From USNA Virtual Memorial Hall
Henry Kolakowski, Jr. '61
Date of birth: July 13, 1938
Date of death: June 15, 1968
Age: 29
Lucky Bag
From the 1961 Lucky Bag:
Loss
From U.S. Marines In Vietnam: The Defining Year, 1968:
… On 14 June, the 3rd Battalion, 5th Marines marched out from An Hoa, leaving Company-K to guard the fire support base, and crossed the Song Yen into the Arizona Territory. Just across the river from An Hoa, Company I came under attack. A communist mortar round killed the Company Commander, a platoon commander, and the company gunnery sergeant and seriously wounded the company executive officer, First Lieutenant Joseph T. Campbell. As the only officer left alive, Lieutenant Campbell refused evacuation and assumed command of the company. He directed ……..
From the November 1968 issue of Shipmate:
Capt. Henry Kolakowski, Jr., USMC, was killed in action 15 June at Quang Nam Province, Republic of Vietnam. He died of fragmentation wounds received while leading his company against Viet Cong forces during a large scale operation. He Had served as a Company Commander in the 3rd Battalion, 5th Marines, 1st Marine Division, since arriving in Vietnam in June 1967. Memorial services were held at Farmington, Mich., followed by interment with full military honors.

Capt. Kolakowski, who was born in Detroit, Mich., attended the University of Detroit for a year prior to entering the Naval Academy. During his first class year he served as a Company Commander. Following graduation in 1961 he completed Basic School, Quantico, Va., then was Infantry Platoon Commander, 3rd Marine Division, guard officer of a Marine Barracks, operations officer of a Reconnaissance Battalion, then duty in Vietnam. He held the Silver Star and Bronze Star Medals, with combat "V," and the Purple Heart.

Surviving are his widow, Linda, and an 18-month-old son Stephen K., of 21 Glenside Trail, Sparta, N. J. 07871; his parents, Mr. and Mrs. Henry Kolakowski of 30018 Green Acres, Farmington, Mich.; three sisters, Mrs. Robert H. Josz, Mrs. Eric B. Hansen, and Sharon Kolakowski; and a grandmother, Mrs. Katherine Kolakowski.
Remembrances
From Wall of Faces:
You were the best brother and I still miss you. Think about you often. Love, your sister Lori LORI JOSZ, LORIJOSZ@Q.COM, 1/5/12
I served as one of your platoon commanders in 1967-1968. You were an outstanding officer. This is the first time I have been on the website and am in awe. TOM SAAL, LITEHOUS @ CANADA.COM, 6/23/05
Capt. Ski - you looked after us when no one else wanted to. You saw us through Tet, you stood up for your men. You treated the lowliest Pvt. as well as any other man in your command. I've never forgotten your kindness in the face of the insanity we faced. God bless, Captain Ski, from a grunt in 3rd platoon 12/67 - 2/70. W. TERRY LEICHNER, CPL, USMC INDIA 3/5, 3RD PLT, 10/17/01
This marine was one of "the few good men." He was my skipper, my hero, leader, and not bad at gin either. I will always remember this Marine as a de3voted father, husband, and son to his country. Thank you Sir. Semper Fi my friend CURTIS W. EIDSON, JARHEADNAM@AOL.COM, 11/19/99
It was my honor sir to have served under you for many months in Nam. I would do it again any time sir. For you was an great officer and a gentleman to your troops sir. You stood by us to the end. This is why sir you well never be forgot by your company. We well see that your name is held up in great honor with our life here. you are always in our hearts. SEMPER FI! JERRY L. BAIN, JKBAIN@YAHOO.COM, 11/14/99
From Combat Wife:
My Skipper in Vietnam
He was my skipper in VietNam, and will always be my skipper. I will never forget you my friend, and will always hold you up as long as there is air in my body. I was only a corporal at the time, but you treated me as a Marine and a friend. Never asked me to go or do anything that you would not do yourself. I will never forget that, and admire you still for it my friend.

Thank you, and Semper Fi! Curtis Eidson, India 3/5
Forever in your debt
I would not have made it back from Nam except for what you taught me. You will always live in my heart and in my memory. I will always pray that I had been able to save you, as your teaching saved me. You were the best of the best, and I know that you will be guarding heaven's gate. In my heart I believe that I will be your Corpsman after I pass on, and we meet again on the other side!

Ronald (Doc) Parlee | Corpsman for him from May '68 till June 15, '68
HAPPY 61ST BIRTHDAY SKIPPER!
Even now Skipper, I think of you always. My heart is broken that you are not here today. But someday Sir, we will be together again. I can be your radioman again. You will always be in my thoughts and prayers daily, Sir. Your two sons are great guys, you can be very proud of them, Sir. You and all the men of India will always be in my heart.

SEMPER FI! HAPPY BIRTHDAY SIR! TERRAPIN INDIA OUT! Jerry Bain, Radioman and Friend
Henry — "Captain K" — is referenced repeatedly in "It Wasn't Like Nothing: One Marine's Adventure in Vietnam".
Silver Star
From Hall of Valor:
The President of the United States of America takes pleasure in presenting the Silver Star to Captain Henry Kolakowski, Jr. (MCSN: 0-81631), United States Marine Corps, for conspicuous gallantry and intrepidity while serving as Commanding Officer of Company I, Third Battalion, Fifth Marines, First Marine Division in connection with operations against insurgent communist (Viet Cong) forces in the Republic of Vietnam. On 30 January 1968, Captain Kolakowski's company landed by helicopter in the Hoa Vang District of Quang Nam Province and quickly established a blocking position to contain two Viet Cong battalions on a river island while a nearby Army of the Republic of Vietnam force prepared to assault the enemy position. When the attacking units encountered heavy resistance and faltered, Captain Kolakowski immediately effected the necessary coordination and led his company to relieve the attacking forces. The Viet Cong, well entrenched in a hamlet surrounded by wire entanglements and making effective use of excellent fields of fire afforded by open rice paddies, were successful in holding back the attacking forces by use of extremely heavy small arms fire, grenades and antitank rockets. With exceptional professional skill and courage, Captain Kolakowski reorganized his company while under the intense enemy fire, issued orders for supporting fire and prepared to re-assault the hamlet. Demonstrating superior tactical skill and inspiring leadership, he fearlessly exposed himself to the hostile fire as he led his troops in a second assault. When the lead elements of his unit succeeded in reaching the hamlet, he unhesitatingly advanced through heavy enemy cross fire and directed his men in aggressive attacks against the determined enemy. Consolidating his position with two platoons before darkness descended, Captain Kolakowski established a cordon by placing his remaining platoon in a blocking position adjacent to the Army of the Republic of Vietnam forces. Throughout the night, as the enemy repeatedly attempted to break through the perimeter in human wave attacks, he disregarded his own safety as he directed his men in maintaining their positions. The following morning, Captain Kolakowski resumed the attack on the entrapped enemy, contributing significantly to 102 of the enemy confirmed killed, the capture of eighty-eight soldiers and the destruction or confiscation of large quantities of ammunition, equipment and valuable documents. By his exceptional professionalism, dauntless courage and unswerving devotion to duty, Captain Kolakowski upheld the highest traditions of the Marine Corps and of the United States Naval Service.

Action Date: 30-Jan-68
Service: Marine Corps
Rank: Captain
Company: Company I
Battalion: 3d Battalion
Regiment: 5th Marines
Division: 1st Marine Division (Rein.), FMF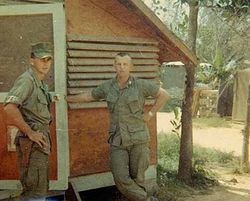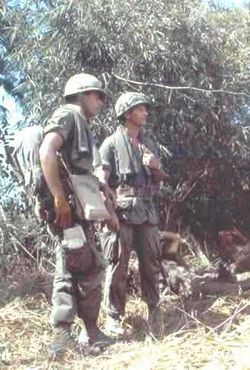 Henry is one of 23 members of the Class of 1961 on Virtual Memorial Hall.