HERBERT C. KNIPPLE, LTJG, USN
From USNA Virtual Memorial Hall
Date of birth: August 5, 1929
Date of death: June 25, 1955
Age: 25
Lucky Bag
From the 1952 Lucky Bag:
Loss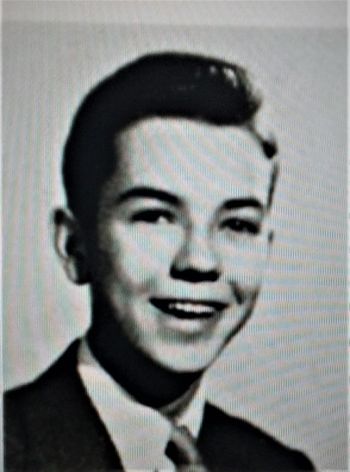 Herb was lost in an aircraft crash at sea on June 25, 1955 while operating from USS Oriskany (CVA 34) in the Western Pacific. He was a member of Fighter Squadron (VF) 192. (He had been stationed with that squadron since sometime prior to August 1954, per that issue of Shipmate.)
Other Information
From researcher Kathy Franz:
In his youth, Herbert went by his middle name Carl. He graduated from Riverside High School in 1947. Freshman Project, Hall Patrol, Noon Hall Patrol, Study Hall Monitor, Football, Cross Country, President of Service Club, Homeroom President.

In 1940 his father Herbert was a bank clerk, mother Vera, and sister Vera.
The obituary of his wife, Ruth, talks about their time together:
They were married upon his graduation from the U.S. Naval Academy in 1952. During their Naval Service, Carl became a Naval Aviator and they moved to NAS Moffett Field, Mountain View, Calif. By this time, they had a daughter, Susan Margaret. Carl's squadron was deployed to the Western Pacific, leaving Ruth at home and pregnant with their second daughter. This meant that she had to be taken to the hospital for her delivery of Carrie Jane by close friend, astronaut James Lovell. A sad note is that Carl was lost at sea in an aircraft accident and never got to hold Carrie in his arms. Published in Star-Telegram on June 19, 2016
She remarried a 1953 graduate in March 1956.
Herbert is one of 50 members of the Class of 1952 on Virtual Memorial Hall.
The "category" links below lead to lists of related Honorees; use them to explore further the service and sacrifice of the alumni in Memorial Hall.