HORATIO G. SICKEL, V, LCDR, USN
From USNA Virtual Memorial Hall
Birthdate & Date of Loss
| | |
| --- | --- |
| Date of birth: | October 20, 1921 |
| Date of death: | July 13, 1956 |
| Age: | 34 |
Lucky Bag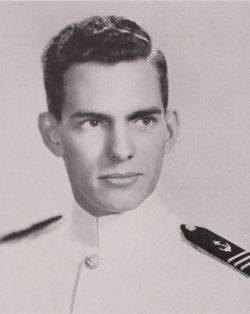 From the 1944 Lucky Bag:
Horatio Gates Sickel, Jr.

Philadelphia, Pennsylvania

"Bud, "as he wished to be called, made a host of friends during the three short years he spent at the Academy. His industry netted him a fine academic record; however, he did not allow his social life to lag. In the beginning he professed to be a staunch family man intent upon a graduation marriage, and he has persevered in that intention throughout his Naval Academy career. We shall hope that his marriage is as true as his courtship was. "Bud" tried his hand at football and crew, but his main success was in preaching the gospel of the wonders of his adopted home town, Coronado, California.
The Class of 1944 was graduated in June 1943 due to World War II. The entirety of 2nd class (junior) year was removed from the curriculum.
Loss
Horatio was lost when his FJ-3 Fury crashed near NAS Patuxent River, Maryland on July 13, 1956. He is buried in Arlington National Cemetery.
Thanks for this well written article. CAPT HGS, IV was not a pilot but rather Surface Navy. He was killed off Funi Futi Island while a passenger in a Navy transport plane. My Uncle Bud, HGS, V was indeed a Navy Test Pilot killed in 1956. His brother and my father, John A (Jack) Sickel was also a USNA grad and Navy Test pilot. The name HGS is still carried to this day, at least in part. My son's Name is Ryan Gates Sickel, his mother nixed Horatio..He served in the US Army in Iraq. John A Sickel, Jr, November 30, 2016
Family
Horatio Sickel, IV '20, his father, is also in Memorial Hall.