HOWARD A. MCBRIDE, LTJG, USNR
From USNA Virtual Memorial Hall
Lucky Bag
Howard Aubrey McBride is listed on a page titled "Gone… But Ne'er Forgotten":
There were close to a thousand of us when we entered in June of 1940 and formed the new fourth class, the class of 1944. Now, as we graduate one year ahead of time, there are less than 800. But we who go to join the active services are sure in our minds that our friends of fourth class summer who have left us at various stages of the course will find their place in the American Victory Machine, rolling relentlessly on to a triumph over the forces of evil that threaten the life and liberty we all hold so dear.
The Annual Register of the United States Naval Academy 1941-1942 lists him as "Deficient in studies, first term's work. Continued with class pending reexamination. Reexamined and again deficient. Recommended to be dropped. Permitted to resign." on March 7, 1941.
Loss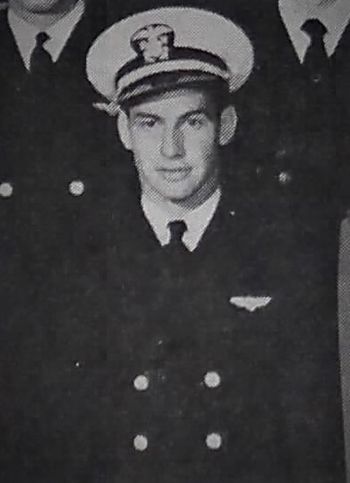 Howard was lost on April 20, 1945 when the SB2C-4 Helldiver collided with another near Yoroshima Island (near Okinawa) and crashed at sea. He was flying with Bombing Squadron (VB) 82 from USS Bennington (CV 20); the crewman aboard was also lost.
His mother, Florence, was listed as next of kin; he was also survived by his father (see below) and probably his brother, Earl.
He is listed on the killed in action panel in the front of Memorial Hall. USS Bennington's daily summary included that they were considered "killed in action," and also that he was a member of the Naval Reserve (SN 337446). His home was listed as Syracuse, New York. A more detailed account of his loss indicated that Howard had crossed below a squadron-mate's; the visibility was poor, and the other plane's propeller cut into the rudder of Howard's plane.
Other
He was a pilot with Bombing Squadron (VB) 80, flying from USS Ticonderoga (CV 14), as of mid-November 1944; he survived a crash of his SB2C-3 near Manila.
His father, Clarence, was an enlisted Navy sailor in WWI and was aboard USS Jacob Jones (Destroyer No. 61) when that ship was sunk in December 1917. Clarence continued service until 1939, when he retired. At the outbreak of WWII he was recalled to active duty and became commanding officer of USS Constitution.
From researcher Kathy Franz: "His parents are buried in Arlington National Cemetery. His brother Earl died in 1978 and is buried in Rhode Island."
Howard is one of 66 members of the Class of 1944 on Virtual Memorial Hall.
The "category" links below lead to lists of related Honorees; use them to explore further the service and sacrifice of the alumni in Memorial Hall.