JOSEPH J. SILHAVY, JR., LTJG, USN
From USNA Virtual Memorial Hall
Birthdate & Date of Loss
| | |
| --- | --- |
| Date of birth: | 1921 |
| Date of death: | April 29, 1945 |
| Age: | ~23 |
Lucky Bag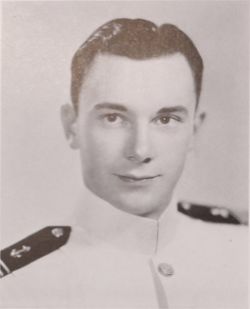 From the 1944 Lucky Bag:
Joseph John Silhavy, Jr.

Wauseon, Ohio

From ""late-dater" to midshipman is a transition that tew have undergone. Joe, a former "St. Johnnie," had this distinction. Schooled at St. John's in the works of the old philosophers, he was able to master with ease any course. Joe managed to find time from his academics to help the Reception Committee, to write for the Trident, to participate in battalion athletics, to improve his game of colt, and above all, to write letters to Jean. The charm responsible for the tonnage of mail he received, coupled with his never-ceasing good sense of humor, will result in his ending up at but one place—the top.
The Class of 1944 was graduated in June 1943 due to World War II. The entirety of 2nd class (junior) year was removed from the curriculum.
Loss
Joseph was one of ten officers and 67 men killed — with another 36 missing — when USS Hazelwood (DD 531) was struck by a kamikaze on April 29, 1945 while operating near Okinawa.
He has a memory marker in Ohio. Joseph was survived by his wife, Mrs. Florence Jean Silhavy.