HOWARD L. TERRY, LCDR, USN
From USNA Virtual Memorial Hall
Date of birth: September 15, 1920
Date of death: March 18, 1953
Age: 32
Lucky Bag
From the 1942 Lucky Bag:
Loss & Remembrance
From the May 1953 issue of Shipmate:
The Navy and the Class of 1942 suffered a great loss on March 18 when Lt. Cdr. HOWARD L. TERRY was killed in an aircraft crash near NAS Atlantic City. Howie was flying an F3D twin-jet aircraft on a night-intercept training hop. The weather was overcast and it was raining. Shortly after takeoff, a fire or power loss forced an immediate emergency landing. The plane crashed, wings level, in a wooded area only two miles off the field. Both the pilot and the radar operator were killed on impact.

Howie was the leader of a carrier night-fighter team which was preparing for Korean duty. He will always be remembered for his friendly Arkansas drawl, his imperturbable disposition, and his limitless enthusiasm for sports of all kinds.

Howie is survived by his mother, Mrs. George Terry of Batesville, Ark.; a brother, and two sisters as well as by his widow, Fannie Laura, a son, Howard, and a daughter Dana Lucille.
He is buried in Arkansas.
Biography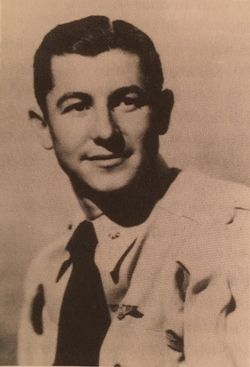 From Heroes of the United States Naval Academy:
LCDR Terry was a World War II veteran and leader of one of the first carrier night-fighter teams preparing for Korean War duty. His Douglas F3D Skynight all weather-night fighter crashed on a night training mission. He will always be remembered for his friendly Arkansas drawl, his imperturbable disposition, and his limitless enthusiasm for sports of all kinds.

Howard Leroy Terry was born on September 15, 1920 in Arkansas to George Jefferson Terry and Laura Bailey (Johnson) Terry. He was nominated to the United States Naval Academy from Arkansas. On June 23, 1938, he entered the Naval Academy as a Midshipman. Midshipman Terry graduated 215 of 563 Midshipmen on December 19, 1941. The class graduated less than two weeks after the United States entered World War II. The class had previously been scheduled to graduate in February 1942.

In 1942, Ensign Terry was assigned to battleship USS Colorado (BB-45). On March 31, 1942, Colorado completed overhaul at Puget Sound Navy Yard. After west coast training, Colorado returned to Pearl Harbor August 14, 1942 to complete her preparations for action. She operated in the vicinity of the Fiji Islands and New Hebrides from November 8, 1942 to September 17, 1943 to prevent further Japanese expansion. She sortied from Pearl Harbor October 21, 1942 to provide pre-invasion bombardment and fire support for the invasion of Tarawa, returning to port December 7, 1943.

On December 30, 1943, Lieutenant Terry was detached from Colorado for flight training in Dallas, Texas.

On February 18, 1944, Lieutenant Terry married Fannie Laura Taylor. Together they had two children.

In 1945, Lieutenant Terry earned his wings at Naval Air Station Pensacola, Florida.

In 1946, LCDR Terry was assigned a short tour as instructor in day fighters.

In 1949, LCDR Terry earned a Master's Degree in aeronautical engineering.

In 1950, LCDR Terry was assigned under instruction in night-fighters at Naval Air Station Key West, Florida.

In 1953, LCDR Terry was assigned to Composite Squadron Four (VC-4), and as team leader of a detachment of five night fighters. His detachment flew the Douglas F3D Skynight all weather-night fighters. The F3D was a large American twin-engine, mid-wing jet fighter aircraft with radars in its nose and tail. It carried a radar operator in the second seat. The F3D was designed as a carrier-based all-weather night fighter and saw service with the United States Navy and United States Marine Corps. The mission of the F3D was to search out and destroy enemy aircraft at night.

On March 18, 1953, LCDR Terry was killed in the line of duty when his plane crashed on a training mission near Naval Air Station Atlantic City, New Jersey. It happened on a typically nasty New Jersey early spring night, March 18, 1953, only a few weeks before LCDR Terry's VC-4 detachment was scheduled for departure to the Korean theater. LCDR Terry's F3D was fully loaded with external fuel tanks slung on the underside of the wings, as a precaution against the vagaries of the midnight fog and rain that might prevent a return to the airfield. At 1945, the plane hurtled down the runway and into the heavy rain and clouds. The takeoff appeared normal to an outside observer, and the plane was tracked by ground-controlled approach radar to appoint about a mile and half from the air station. Then it all came to an end. The plane disappeared from the radar scope and crashed, cutting a swath through the scrub pines and swamp oaks, narrowly missing several houses, and leaving a quarter-mile streak of flames in the cold, wet night. LCDR Terry and his radar operator Howard A. O'Neil were killed instantaneously.

The accident was exhaustively investigated, like all aviation tragedies, and a probable cause was formulated. Ear witnesses within a half mile of the plane's flight path reported abnormal engine sounds, and an eyewitness reported abnormal flame and sparks emissions from the starboard engine along with sounds of cutting in and out, or surging, Just prior to the crash, the witness reported that there was a distinct increase in engine rpm.

The accident board concluded that the crash was caused by a loss of engine thrust, likely caused by icing in the air-inlet duct of one or both engines. The board also concluded that pilot error contributed to the accident, because LCDR Terry failed to jettison his fully loaded external fuel tanks, which greatly worsened his predicament due to thrust loss. Weather was also considered a contributory factor – quite possibly the primary cause.

Many years later, Rear Admiral Josef M. Gardiner (USNA 1931), who was able to inspect the accident scene not long after the crash, argued vigorously and convincingly that there was ample evidence at the scene to indicate that an engine had thrown some compressor blades, casing failure of one engine.
Howard is one of 82 members of the Class of 1942 on Virtual Memorial Hall.