HOWARD R. JOHNSON, COL, USA
From USNA Virtual Memorial Hall
Howard Ravenscroft Johnson was admitted to the Naval Academy from West Virginia on September 4, 1923 at age 20 years 2 months.
He resigned on February 16, 1923.
Lucky Bag
Howard is listed in the Lucky Bag under the "Two-Year Men" section with the following at the top of the page:
THESE ARE THE MEN who have been members of the Class of Nineteen Hundred Twenty-seven, but for various reasons—in many cases through no fault of their own—they did not graduate with our class. Some of them are now in civilian life, and to them we wish all the success that life can offer. Others are members of classes now in the Academy, and for them we hope that our meeting as brother officers in the Service, though delayed, is no less certain of fulfillment. We look forward to that meeting after they achieve their long-sought goal—Graduation.
Obituary
From Arlington National Cemetery:
Colonel Howard Ravenscroft Johnson was born 18 June, 1903, son of a shipbuilder in Maryland.

Colonel Johnson graduated from Central High School in Washington, D.C., then attended Annapolis Naval Academy. However. before graduating from Annapolis, he left to become an Army Air Corps pilot in Texas. Rejected from pilot training due to "insufficient side vision", Johnson remained in the Army throughout the 1920's and 30's serving in the Canal Zone, ar Fort Sill, Oklahoma, and in Tientsing, China.

He was at Fort Meade, Maryland in the late 1930's, when troops were training with wooden guns. In the early 1940's, he was test driving a jeep, when he flipped the vehicle over, breaking vertebrates in his spine. After recuperating, he was offered initial command of the First Special Service Force, but turned it down because he doubted that it would amount to anything.

Sick of the pretend war and games of the interim years, Johnson longed for a combat command, to form a unit with which he could fight force with greater force. He was given command of the 501st Parachute Infantry Regiment upon it's activation at Camp Toccoa, Georgia, in November, 1942. There, he forged one of the best trained, most high-spirited regiments in the World War II Army. Each member of his Geronimo Regiment was infused with Colonel Johnson's fighting spirit. He led the regiment to Fort Benning for parachute qualification, then to Camp Mackall, North Carolina, and 2nd Army maneuvers in Tennessee in late 1943.

Sailing to England in January, 1944, the 501 was attached to the 101st Airborne and jumped into Normandy with that unit on D-Day, 6 June, 1944. On 7 June, elements of the 501, led by Colonel Johnson, wiped out the 1st battalion of the German 6th Parachute Regiment at la Barquette, France and the 501 was awarded a Presidential Unit citation for the Normandy battles.

The 501 parachuted into the Netherlands on 17 September 1944, fighting up Hell's highway from the Eerde-Veghel area in September and holding positions on the Neder Rhine River west of Arnhem in October-November. On 8 October, 1944, while inspecting 'D' company positions behind the dike west of Driel, Holland, a large shell fragment struck Colonel Johnson in the lower abdominal area. Although he survived for two hours, he died, leaving his beloved regiment to command of Lieutenant Colonel Julian J. Ewell, West Point, 1939. Colonel H.R.Johnson, serial # 0-16673, was initially buried near Nijmegen, but was re-interred in Arlington National Cemetery several years after World War II ended. He was survived by wife Mary, a son and a daughter.

Colonel Howard R. Johnson was one of the dynamic and legendary combat commanders of the U.S. Army in World War II. One of his officers wrote: "In an age of faint ideals and quibbling uncertainties, he was like a steel knife."
From Wikipedia:
The 501st Parachute Infantry Regiment was activated at Camp Toccoa, Georgia on 15 November 1942. The 501st was part of the 101st Airborne Division during World War II and the Vietnam War.

The famous test platoon, the prime ancestor of all American parachute units, provided the nucleus of the 1st Parachute Battalion, which in turn provided part of the cadre, the unit number, the genealogical lineage and the heraldic background of the 501st Parachute Regiment. Its initial group of officers were hand picked by its first commander, Colonel Howard R. Johnson.

Known by his peers as "Skeets", he was very much in the swashbuckling mold of most of the original parachute regimental commanders, of whom the popular saying was "To command a parachute unit, you don't have to be nuts, but it helps!"

Johnson attended the Naval Academy for two years; he boxed while a midshipman. He had transferred to the Army after leaving Annapolis and had most recently been at the tank destroyer center before volunteering for parachute duty. To say that he took to parachuting is a gross understatement: he ate, slept, and breathed it, and jumped whenever he possibly could, often jumping many times in a single day. His nickname among his men became "Jumping Johnson." He was a zealot on physical conditioning, for himself and everyone in his regiment, and personally led calisthenics, running and all other physical activities. He set a record for running up Currahee Mountain (which loomed over Camp Toccoa) and challenged anyone in the regiment to beat his time. A heavy punching bag hung outside his quarters, and when not punching that, Johnson could often be seen throwing his huge knife at hanging plywood replicas of Hitler and Hirohito.

All members of the regiment were parachute volunteers, but only a minor fraction were actually qualified jumpers during training at Camp Toccoa, GA. So, when that very arduous training was over in March 1943, the unit marched to Atlanta, GA, a distance of 105 miles (169 km). They then moved to Fort Benning, GA, to jump train all members not previously qualified.
Distinguished Service Cross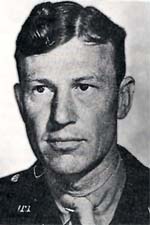 From Hall of Valor:
(Citation Needed) - SYNOPSIS: Colonel (Infantry) Howard R. Johnson (ASN: 0-16647), United States Army, was awarded the Distinguished Service Cross (Posthumously) for extraordinary heroism in connection with military operations against an armed enemy while serving as Commanding Officer, 501st Parachute Infantry Regiment, 101st Airborne Division, in action against enemy forces from 6 to 8 June 1944, in France. Colonel Johnson's outstanding leadership, personal bravery and zealous devotion to duty at the cost of his life, exemplify the highest traditions of the military forces of the United States and reflect great credit upon himself, the 101st Airborne Division, and the United States Army.

General Orders: Headquarters, First U.S. Army, General Orders No. 87 (1944)
Service: Army
Division: 101st Airborne Division
Rank: Colonel
Howard is one of 43 members of the Class of 1927 on Virtual Memorial Hall.