HUBERT E. CARTER, LCDR, USN
From USNA Virtual Memorial Hall
Birthdate & Date of Loss
| | |
| --- | --- |
| Date of birth: | November 27, 1915 |
| Date of death: | July 26, 1944 |
| Age: | 28 |
Lucky Bag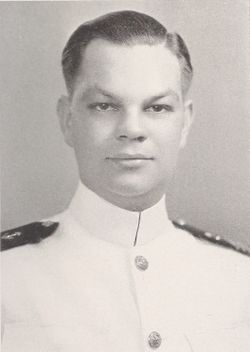 From the 1939 Lucky Bag:
HUBERT EARL CARTER

MIAMI, FLORIDA

Bo, Seminole, He

His popularity doesn't depend upon a smile, but that alone, indicative of his genial personality, has made him many friends. He is always ready to help a friend whether it be with money or studies. A minor genius himself, earning grades any savoir might envy, he has never boned more than he could help, often avoiding study by some such method as spending considerable time helping a luckless classmate with a difficult problem. Never a great athlete, he chooses to divide his time between the glee club and the radiator squad, with annual attempts at learning to swim. His two weaknesses are singing and Florida. It's a pretty safe bet to find him either singing or bragging about his beloved land of oranges and hurricanes.

Glee Club 4, 3, 2, 1; Choir 4,3, 2, 1; Musical Club Show 4, 3, 2, 1; Director 1; Mandolin Club 4; 2 Stripes.
Loss
Hubert was lost when USS Robalo (SS 273) sank on July 26, 1944, possibly by a mine. Only four men survived the initial sinking, but they were captured and did not survive to tell what they knew of the loss.
His wife was listed as next of kin.