HUGH WOOD, JR., LCDR, USN
From USNA Virtual Memorial Hall
Birthdate & Date of Loss
| | |
| --- | --- |
| Date of birth: | January 7, 1916 |
| Date of death: | December 19, 1950 |
| Age: | 34 |
Lucky Bag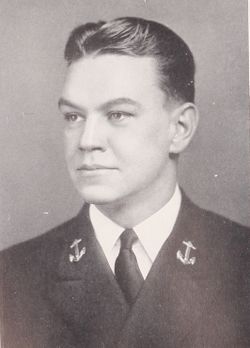 From the 1940 Lucky Bag:
HUGH WOOD, JR.

Dayton, Ohio

He came from the "wilds" of Ohio into the civilization of Maryland. Such an abrupt change has had no effect on "Temperamental Hughie." He still remains the close friend, quick thinking, fast-on-the-answers personality that shows an experience belied by his twenty-odd years. He relishes a plaintive melody, a bang up lacrosse game, and a fast session of ice hockey, but would rather face a firing squad than a bridge partner. With his ability to size-up quickly a dangerous situation and his love for wandering, both real and imaginary, he will always be happy in the Navy, and we are certain that the Navy cannot do without Hugh — just ask him!
Loss
Hugh was lost while attempting to land the first prototype XA2D-1, BuNo 122988, on 19 December 1950, on its 15th flight. He was unable to check the rate of descent, resulting in a high-impact crash on the runway.
He is buried in Arlington National Cemetery.
From Hall of Valor:
The President of the United States of America takes pleasure in presenting the Navy Cross to Lieutenant Commander Hugh Wood, Jr. (NSN: 0-85378), United States Navy, for extraordinary heroism in operations against the enemy while serving as Pilot of a carrier-based Navy Bomber and Flight Leader in Bombing Squadron EIGHTY-TWO (VB-82), attached to the U.S.S. BENNINGTON (CV-20), in action while leading a bombing mission over Hiroshima Bay, Japan, on 19 March 1945. Lieutenant Commander Wood initiated and led a coordinated dive-bombing attack against a YAMATO class battleship and its screen, within sight and range of a major Naval base. In spite of heavily-concentrated, intense, and accurate anti-aircraft fire from the battleship, its screening force, and the surrounding shore batteries, which damaged six of the eleven aircraft engaged, he prosecuted the attack with aggressiveness and determination. His bomb was observed to strike squarely amidships on the battleship, as the first of three direct hits to be scored by his attacking group. His skillful coordination and execution of this attack, and his courageous, inspiring leadership were at all times in keeping with the highest traditions of the United States Naval Service.

General Orders: Commander 1st Carrier Task Force Pacific: Serial 0592 (July 4, 1945)
Action Date: 19-Mar-45
Rank: Lieutenant Commander
Company: Bombing Squadron 82 (VB-82)
Regiment: Air Group 82 (AG-82)
Division: U.S.S. Bennington (CV-20)
From Hall of Valor:
The President of the United States of America takes pleasure in presenting a Gold Star in lieu of a Second Award of the Navy Cross to Lieutenant Commander Hugh Wood, Jr. (NSN: 0-85378), United States Navy, for extraordinary heroism in operations against the enemy while serving as Pilot of a carrier-based Navy Bomber and Flight Leader of Bombing Squadron EIGHTY-TWO (VB-82), attached to the U.S.S. BENNINGTON (CV-20), in action against major units of the enemy Japanese Fleet off Kyushu, Japan, 7 April 1945. Leading his flight of dive bombers in a coordinated strike against an enemy battleship in the face of intense and accurate anti-aircraft fire from the target and from a strong screening force of light cruisers and destroyers under unfavorable weather conditions, Lieutenant Commander Wood unhesitatingly dived within the cloud layer beneath which the hostile Task Force had sought cover and, pressing home a steep-angle attack, placed his bomb squarely amidships, causing a violent explosion and probably major damage to the Japanese vessel. His inspiring leadership and gallant devotion to duty were contributing factors to the success of a hazardous engagement and were in keeping with the highest traditions of the United States Naval Service.

General Orders: Commander 1st Carrier Task Force Pacific: Serial 0592 (July 4, 1945)
Action Date: April 7, 1945
Rank: Lieutenant Commander
Company: Bombing Squadron 82 (VB-82)
Regiment: Air Group 82 (AG-82)
Division: U.S.S. Bennington (CV-20)
Silver Star
From Hall of Valor:
The President of the United States of America takes pleasure in presenting the Silver Star to Lieutenant Commander Hugh Wood, Jr. (NSN: 0-85378), United States Navy, for conspicuous gallantry and intrepidity as a Pilot and Squadron Leader of a carrier-based Navy Bomber in Bombing Squadron EIGHTY-TWO (VB-82), attached to the U.S.S. BENNINGTON (CV-20), during action against enemy airfield installations in the Tokyo Area, on 16 February 1945. Despite intense anti-aircraft fire and extremely adverse weather conditions, Lieutenant Commander Wood courageously led his squadron in daring strikes against selected installations and, maneuvering his plane for maximum striking power, pressed home a vigorous attack at low level to score a direct hit on a large hanger. By his leadership, superb airmanship and devotion to the fulfillment of his hazardous mission, Lieutenant Commander Wood upheld the highest traditions of the United States Naval Service.

General Orders: Commander 1st Carrier Task Force Pacific: Serial 0281 (March 30, 1945)
Action Date: 16-Feb-45
Rank: Lieutenant Commander
Company: Bombing Squadron 82 (VB-82)
Regiment: Air Group 82 (AG-82)
Division: U.S.S. Bennington (CV-20)
Distinguished Flying Cross
From Hall of Valor:
The President of the United States of America takes pleasure in presenting the Distinguished Flying Cross to Lieutenant Commander Hugh Wood, Jr. (NSN: 0-85378), United States Navy, for heroism and extraordinary achievement while participating in aerial flight as Commanding Officer of Bombing Squadron EIGHTY-TWO, attached to the U.S.S. BENNINGTON (CV-20), during action against enemy Japanese forces in the vicinity of Tokyo, Nanpo Shoto and Nansei Shoto from 17 February to 14 April 1945. Leading twenty strikes against enemy shipping, airfields and military installations, Lieutenant Commander Wood contributed materially to the success of his squadron. His gallant devotion to duty was in keeping with the highest traditions of the United States Naval Service.

General Orders: Commander 1st Carrier Task Force Pacific: Serial 0585 (July 3, 1945)
Action Date: February 17 - April 14, 1945
Rank: Lieutenant Commander
Company: Bombing Squadron 82 (VB-82)
Regiment: Air Group 82 (AG-82)
Division: U.S.S. Bennington (CV-20)