JACK W. ROBBINS, LTCOL, USMCR
From USNA Virtual Memorial Hall
Date of birth: unknown
Date of death: January 16, 1969
Age: unknown
Lucky Bag
From the 1948 Lucky Bag: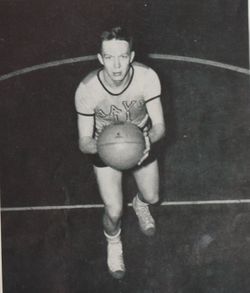 Career
Jack was Commanding Officer of Marine Fighting Squadron 321 (VMF-321) from March 17, 1964 to September 6, 1966.
Life & Loss
Unable to find any information on Jack's life or loss. Class of 1948 Operational Losses lists his date of death as January 19, 1969 in an aircraft accident.
Other
The ALL HANDS magazine of May 1949 mentions Jack in an article about the All-Navy basketball tournament.
Related Articles
Stanwix Williams '48 and William Keen '48 were also in 14th Company.
Robert Searle '48 was also on the basketball team.