RICHARD M. RYDER, LTJG, USN
From USNA Virtual Memorial Hall
Lucky Bag
From the 1948-A Lucky Bag: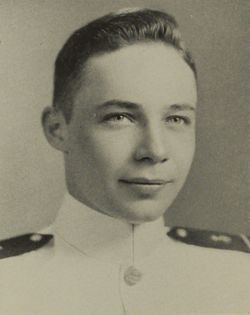 Richard Mackie Ryder

South Orange, New Jersey

Suave manners and an impeccable attire made Red the focal point of many a would-be O.A.O.'s intentions. However, Red stood steadfast by his academics and paid no heed to his female following, except during study hours when he wrote letters and on week ends. Since he was one of the better golfers of our class, he played on the golf team. He was also a member of the Model Railroad Club. He is famous not only for his collection of rare and unique fraps, but also as a connoisseur of Puerto Rican rum. Red's uncanny ability to solve Math probs has been of great benefit to his profs. As an officer, Red will achieve much.
He graduated with the class of 1948-A, the last of the wartime-accelerated classes, in June 1947. (The bottom half of the class by academic standing, designated 1948-B, completed an extra year and graduated in June 1948.)
Loss
From Find A Grave:
LTJG., RICHARD MACKIE RYDER, U.S.N., WAS LOST AT SEA WHILE SERVING ABOARD THE SUBMARINE U.S.S. SEALION (ASSP-315).
He was lost on December 8, 1950.
From Wilmington Morning News on December 20, 1950:
HOPE DIES FOR OFFICER LOST OFF MYSTERY SUB

NORFOLK, Va.. Dec. 19 (U.R). The Navy said today there was "no hope" for an officer washed overboard from the submarine Sea Lion in a mysterious operation off Cape Henry last night, but that Navy helicopters had joined the search. A seaman washed overboard at the same time was rescued. His name was withheld, but he was reported in "good shape" in a message from the submarine. The officer was identified as Lt. (JG) Richard M. Ryder of Norfolk. A Fifth Naval District spokesman said the Sea Lion, a veteran of World War II undersea warfare, now is a transport submarine for "special missions. He said it was not "normal operations" for submarine crewmen to be on deck at night, especially in rough weather, but he had no further details.