JAMES C. HUGHES, JR., LTJG, USN
From USNA Virtual Memorial Hall
Birthdate & Date of Loss
| | |
| --- | --- |
| Date of birth: | July 17, 1927 |
| Date of death: | August 9, 1951 |
| Age: | 24 |
Lucky Bag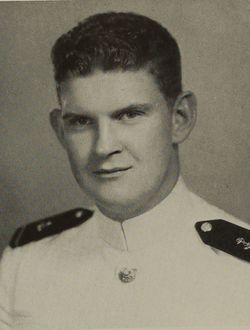 From the 1949 Lucky Bag:
James C. Hughes, Jr.

CHATEAUGAY, NEW YORK

During his "undergraduate" days, Jim found ample time to excel in such diverse fields as basketball and thermodynamics, not to mention several other activities. There were few who were as well read as this informed gentleman, who digested whole volumes with great speed, and was equally at home with John Milton and Milton Caniff. Having served as an aviation cadet prior to entering the Academy, air-minded Jim hoped to return to that branch of the service after graduation. His experience with de-icers, however, was not limited to aeronautics, for he has mastered a deft and subtle approach toward his numerous feminine friends. Blessed with a thoroughly likeable personality and a warm friendly nature, this smoothest of operators will be the life of the party in perpetuum.
Loss
Jim's F4U was shot down by ground fire on August 9, 1951 over Korea. He was a member of VF-821 operating from USS Princeton (CV 37).
His headstone reads:
JAMES C. HUGHES III
NEW YORK
LIEUTENANT (JG)
US NAVY
WORLD WAR II KOREA PH
JULY 17, 1927 - AUG 9, 1951