JAMES M. BELDEN, II, LTJG, USNR
From USNA Virtual Memorial Hall
James Mead Belden was admitted to the Naval Academy from New York on July 7, 1931 at age 19 years 8 months.
Lucky Bag
James is listed in the 1936 Lucky Bag on the "Interrupted Voyage" page for Youngster year.
Loss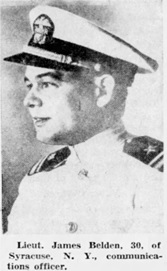 James was lost when USS Reuben James (DD 245) was sunk by a torpedo attack from German submarine U-552 near Iceland on October 31, 1941.
From Naval History and Heritage Command:
Lt. Cmdr. Edwards, who had been in the emergency cabin, soon arrived in his bathrobe and told Yeoman 3rd Class Dennis H. Howard, to try and pick up the contact on the port quarter, and told Lt. j.g. James M. Belden, USNR, the officer-of-the-deck, to "come left." Howard immediately began "pinging" with the sound machine to pick up the contact. Edwards then told Belden that he was going below to get dressed. Appleton heard someone call down to the wardroom to summon Lt. Benjamin Ghetzler, the executive officer. Belden, writing up the radio report, asked Appleton for the time. Looking at the bridge clock, he responded: "0549." Tex Edwards left the bridge, and Belden stepped toward the helmsman, most likely to give him the order to swing Reuben James to port. It was an order, however, that he would not give.

At roughly that moment, a torpedo from the German submarine U-552, with 27-year old Kapitänleutnant Erich Topp, commanding, less than a week out of St. Nazaire, France, on her sixth war patrol, punched into Reuben James's port side, roughly below the after end of the bridge. The explosion hurled Appleton from his feet. His head hit the overhead, he then bounced off the after bulkhead, toward the wheel. He had no sooner grabbed the helm when the second torpedo from Topp's U-boat struck, projecting the Sailor upward through a hole in the overhead. He landed in the water near the bow, and soon found himself being pulled down by the suction, struggling mightily to reach the surface. Ultimately, the Appleton brothers would survive the horrible ordeal as would 43 of their shipmates and the solitary passenger. Tex Edwards did not, however. He went down with his ship and 99 other Sailors.
He was survived by his mother and a brother. James has a memory marker in New York.
Memorial Hall Error
James is listed as "II" on his memorial marker, but without suffix in Memorial Hall on both the 1936 and killed in action panels.
James is one of 39 members of the Class of 1936 on Virtual Memorial Hall.