CRAIG SPOWERS, ENS, USN
From USNA Virtual Memorial Hall
Birthdate & Date of Loss
| | |
| --- | --- |
| Date of birth: | May 25, 1917 |
| Date of death: | October 31, 1941 |
| Age: | 24 |
Lucky Bag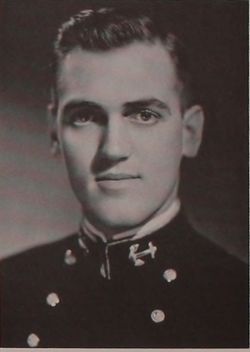 From the 1941 Lucky Bag:
CRAIG SPOWERS

East Orange, N.J.

When Craig came to the Naval Academy, one love from his civilian days was retained and amplified: an ardor for sailing. Having sailed the East Coast between Sandy Hook and Cape Cod in a yawl, Gloucester fishing sloop, and the schooner Tanya, this recreation superseded all the athletics that he had participated in during high school years. Those other athletics had been abandoned with the advent of the tobacco habit; which is characteristic of Craig's "double-or-nothing" personality—a nature which is somewhat perplexing in its homogeneity and eccentricities. Craig is a staunch exponent of a "little bit of Old New York," coming from the near Jersey side—East Orange. "Knickerbocker town," and all its elements appeal to him—from McSorley's Ale House to the Rainbow Room. Craig has accumulated a number of nicknames through the years: "Gonk" (of which he is most proud), "Monster," and "Speedy" being a few. His natural flare toward the immaculate; his constructive criticism, and tolerant cynicism; and his characterizing nicknames: by these do we know him.

Boat Club 4, 3, 2, 1.
The Class of 1941 was the first of the wartime-accelerated classes, graduating in February 1941.
Loss
Craig was lost when USS Reuben James (DD 245) was sunk by a torpedo attack from German submarine U-552 near Iceland on October 31, 1941.