JAMES R. BROWN, LT, USN
From USNA Virtual Memorial Hall
Date of birth: January 19, 1944
Date of death: March 4, 1970
Age: 26
Lucky Bag
From the 1967 Lucky Bag:
Loss
From the June 1970 issue of Shipmate:
Lt. James R. Brown, USN, was killed in an air crash at Chase Field, Tx., on 4 March. Military services were held at J.C. Cron's in Piqua, Oh., and interment was in Forest Hill Cemetery.

Lt. Brown was born in Piqua, and after spending a year at Purdue University entered the Naval Academy, graduating in the class of 1967. After graduation, he began naval air training at Pensacola. He continued flight instruction at Meridian, Ms., returned to Pensacola; and was designated naval aviator when he received his wings at Chase Field, TX., on 16 February, 1969. Lt. Brown was serving as an instructor with VT-24 at Chase Field at the time of his death. He was posthumously commissioned Lieutenant in December, 1969.

Friends and relatives have established the James R. Brown Memorial Scholarship. This scholarship will be awarded to a college-bound senior boy from Piqua Central High School. Gifts are being received by The Piqua National Bank and Trust Co., trustees of the fund.

Lt. Brown is survived by his parents, Mr. and Mrs. Donald Brown of 45 E. Statler Rd., Piqua, Oh.; a sister, Mrs. Scott Looney, and his maternal grandparents.
He is buried in Ohio.
Remembrances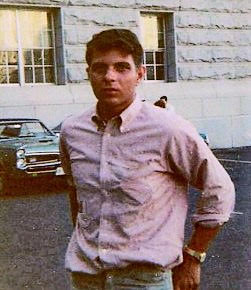 From the Class of 1967's 50th Reunion Yearbook, courtesy of William Belden '67:
Jim Brown (lovingly known as the Grub for his principled refusal to ever shine his shoes in four years) was a much loved member of our class, who grew up on a typical Ohio farm and might have succeeded his dad as Farmer Brown except for one thing: he loved flying more than anything from the time he built and flew model aircraft as a kid. At the Academy, he was legendary for his practical jokes and as a wonderful bridge and poker player. As much as he loved flying, he hated marching and avoided it through calculations ranging from the Cannoneers to Spring Sailing. He was real and without pretense – a wonderful friend, classmate and a character whom most of our class will never forget.

He was killed in 1970 in an aircraft accident near San Antonio, Texas, while instructing a student. He is buried in the VA cemetery near Piqua, Ohio. But his memory is not buried with him and he is deeply and affectionately remembered by his classmates.
James is one of 34 members of the Class of 1967 on Virtual Memorial Hall.
The "category" links below lead to lists of related Honorees; use them to explore further the service and sacrifice of the alumni in Memorial Hall.