JOHN C. KENNEDY, III, ENS, USN
From USNA Virtual Memorial Hall
Lucky Bag
From the 1979 Lucky Bag:
Loss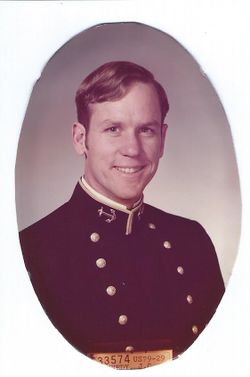 John was lost when the aircraft he was piloting crashed during carrier qualifications in the Gulf of Mexico.
Remembrances
From an email from Jan Kennedy on June 2, 2017:
My brother, John Kennedy, AKA Spook & Skipper to his classmates...

We grew up in Norwalk, CA. There were four of us kids. Kitty, John, Jan and Tom. John was the second child of our parents John and Marie Kennedy. Our parents bought their home in 1948 and that is the only home we ever had.

All of us kids grew up in a Christian home with a strong faith. That is what helped us all get through the tragedy of loosing John. From the time we were kids I always remember John talking about wanting to go to the Naval Academy at Annapolis and becoming a pilot. We even visited the academy during our growing up years. We had a retired Naval Officer that lived behind us and he was going to get John his appointment into the academy. No worries.... I guess my parents, and John, didn't realize that Bill couldn't actually appoint John into the academy. So, John joined the navy as soon as he graduated high school. He graduated in June 1972 and took off with one friend to ride across the country on his 10- speed bike. They left Norwalk, CA for Orlando, Florida to go to Disney World the year it opened. He and his friend Brian took a month to make the ride across country. John would frequently take off on his 10- speed with his buddies and ride up to the mountains, camping alongside the road and then ride back home. I can't even imagine my mom as he did that... I guess our world was a bit more naive and safer then... Mom, John and my other brother Tom would take off on hiking trips very often too. They loved hiking and sleeping under the stars. John always took beautiful pictures as he was a great photographer too.

Shortly after he got home from his month long bike ride, just after high school graduation in 1972, he left for the Navy. The principal at our High School asked me about what John was doing after graduation and I told him he joined the Navy. I told him about the problems John was having trying to get an appointment into the Naval Academy and he started working on it on this end. John applied through the navy since he was already in. John was determined to get into the academy and fulfill his lifelong dream. He was actually in Japan when he was supposed to take the test so he wouldn't have to go to the prep school but somehow couldn't take the test. John went to prep school in Florida and entered the USNA in 1975. When there's a will there's a way, right?

When John set his mind to something he just did it. He was always my smart big brother. We as a family didn't even know all the school awards he received. He didn't tell anyone. My mom found certificates after he left for the navy. John had also had gotten his private pilot's license but he didn't talk about that either. We found out after he passed away as we went through his things. John was my dad's pride and joy too. Whenever John was home dad took him around to introduce him at the bakery where dad worked, the union hall, the hospital where my dad volunteered... and dad always wanted him to wear his uniform so John complied... of course.

Then January 16, 1981 the unimaginable happened.... I happened to be at my parent's home when we got the knock on the door. I answered the door and saw two military men standing there. I didn't grasp what that meant but my mom did. I saw the fear in her eyes. At first mom thought of Tom as he had recently joined the navy and was stationed in San Diego, CA. He had been home and was driving back to the base. We shortly found out it was John.... He had gone down in his training jet. He had just qualified for his wings and was flying back to base when it happened and he went down in the Gulf of Mexico. It was the hardest thing that had ever happened to our family. We still miss him and what could have been... Because of our strong faith in God, and knowing God knows every day of our lives, we still make it through. The last thing in John's life that he did was qualify for his wings. This is what he wanted to do all is life, go to the Annapolis Naval Academy and become a jet pilot.... And he did....

Rest with Jesus my brother! Love, your sister, Janny
From David C. Wyatt on September 16, 2017: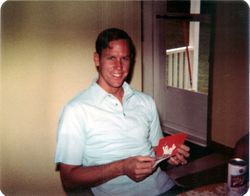 John and I were roommates for all four years at the Academy. We had both attended NAPS as prior-enlisted, but were in different Platoons. When each of us reported for Plebe Summer, we were assigned to 29th Platoon, Papa Company. Room assignments were alphabetical for the summer. We ended up rooming together once Plebe Summer was over, and history was made.

John was a Communications Technician (CT) when enlisted, and I was a Machinist's Mate. Ironically, I was commissioned into Special Duty (Cryptology), working with the newly-renamed Cryptologic Technicians (CTs).

"On the beach", John kept true to form. He spent a fair amount of time with me at the home of my girlfriend/fiance/wife's parents, and his dry but deep sense of humor was always evident. On one particular occasion, he received the ubiquitous "boob cake" for his birthday, and blushed as only John could.

I miss you, brother. Dave
John is one of 15 members of the Class of 1979 on Virtual Memorial Hall.