JOHN F. HARPER, JR., LTJG, USN
From USNA Virtual Memorial Hall
Lucky Bag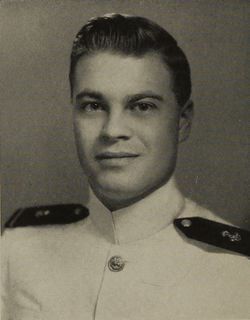 From the 1949 Lucky Bag:
John F. Harper

Waverly, New York

After high school, Harp attended Middlebury College under the V-5 program, and today his first love is still the air corps, which he hopes to enter after graduation. During his time here, he has occupied himself with the Glee Club, Choir, and Serenaders, to which groups his exceptionally fine singing voice has made him an out- standing contributor. On Sundays, after choir, he taught a Sunday School class to round out the day. Athletics also offered an outlet for his abundant supply of energy—a fine golf player, he has been a member of the plebe and varsity golf teams for four years. As he was always ready with a smile and out-of-date joke, his amiability made him a favorite at bull sessions and a popular companion for the scores of ladies, six years old and up, in his life.
He was also a member of the 2nd Regiment staff (winter set) and the Choir.
Life & Loss
Unable to find any information about John's life or loss. He is not mentioned in the 1949 Class History.