JOHN J. GLYNN, LTJG, USN
From USNA Virtual Memorial Hall
Birthdate & Date of Loss
| | |
| --- | --- |
| Date of birth: | July 2, 1923 |
| Date of death: | August 25, 1949 |
| Age: | 26 |
Lucky Bag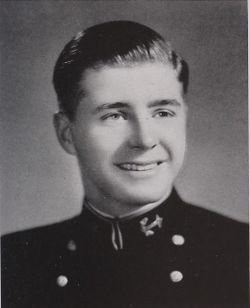 From the 1945 Lucky Bag:
John Joseph Glynn, III

Manhattan, New York

Leaving a busy New York metropolis life for a career in the Navy, "Moe" brought with him a cheery Irish humor. Splashing right into athletics, he won his plebe swimming numerals, and has worried about his stroke and condition ever since. Next to swimming, there came close to his heart three other items: food, sailing, and sleep. Never one to stay ashore, "J. J. Ill" was always ready for a yawl race, storm or shine. Not, that is, until first class year, when within arose the desire for lots of "social development." And the gals were the lucky ones on that score, because none can forget, as can none of us, his cheery wit and practical jokes. He'll always wear a smile.

Varsity Swimming 4, 1, Ns45t; Battalion Swimming 3, 1; Battalion Water Polo 3, 1; Boat Club 4, 3,
The "Ns45t" is not a transcription error; unclear what it indicates.
The Class of 1945 was graduated in June 1944 due to World War II. The entirety of 2nd class (junior) year was removed from the curriculum.
Obituary
JACKSONVILLE, Florida, August 26, 1949 – Two pilots were killed yesterday when their planes collided in the air near Mayport during carrier practice landings. They were Lieutenant (jg) Richard Spaulding Hodson of Jacksonville and Lieutenant (jg) John Joseph Glynn, Jr. of400 East Fifty-seventh Street, New York City.

Lieutenant Glynn was 26 years old and was the son of Mr. and Mrs. John J. Glynn of 400 East Fifty-Seventh Street. He was a member of Attack Squadron 45, based in Jacksonville.

The aviator was graduated from the United States Naval Academy at Annapolis in 1944 and saw action during the last year of the war in the Pacific.

He also leaves a sister, Mrs. James H. Carew, and a grandmother, Mrs. Mary Glynn, sister of the late Governor Alfred E. Smith.

A requiem mass will be held in Arlington National Cemetery Chapel, Virginia, Monday at 9 A.M. Burial with be in Arlington National Cemetery.
He is buried in Arlington National Cemetery.
Memorial Hall Error?
The 1945 Lucky Bag says John was "III". Not included in other sources, though.
Related Articles
Richard Hodsdon '45 was also lost in this collision.
Paul Hunt '45 and Joseph Sheehan '45 were also in 16th Company.