JOHN L. MCELROY, MAJ, USAF
From USNA Virtual Memorial Hall
Date of birth: May 29, 1932
Date of death: May 12, 1968
Age: 35
John Lee McElroy was admitted to the Naval Academy from Kentucky on July 23, 1951 at age 19 years 2 months.
Lucky Bag
John is not listed in the 1955 Lucky Bag.
Obituary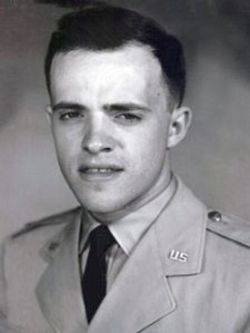 From Find A Grave:
Air Force Maj. John L. McElroy of Kentucky was a University of Kentucky graduate who worked for General Electric Co. for a time in New York state before joining the Air Force in the mid-1950s. When he left for Vietnam in 1967, it was the last time his family saw him. John was known for his "dedicated devotion to mission accomplishment" as a navigator. His example of Christian living significantly influenced all persons with whom he associated. John was highly respected and well-regarded by members of this unit. He died when his C-130 aircraft was shot down on Mother's Day in 1968 while evacuating soldiers from a military base being overrun by enemy forces. He was 36. In early 2008 his remains were recovered and later positively identified through DNA testing and dental records, several years after excavation efforts started at the crash site. His wife never remarried and died about 2005. She knew the excavation work was under way at her husband's crash site but died before his remains were positively identified. John also left three children. On December 2008 his family members gathered to formally say goodbye to him, including grandchildren who never knew their grandfather. John's family put some of his personal belongings into the casket. His father's Bible, his grandfather's Masonic pin, family photos, locks from his dad's first haircut and soil from the family's gravesite in Lexington. John was posthumously awarded the Distinguished Flying Cross, the Air Medal and the Purple Heart. He was buried with military honors.

He was married 4-19-1953 to Regina C Marshall, who died in 2004.

Had 3 children: Russell, Mary, Linda.
The crash killed all six aircrew and approximately 149 South Vietnamese civilians aboard.
John is one of 34 members of the Class of 1955 on Virtual Memorial Hall.