JOHN B. MORRIS, MAJ, USMC
From USNA Virtual Memorial Hall
Lucky Bag
From the 1955 Lucky Bag:
Loss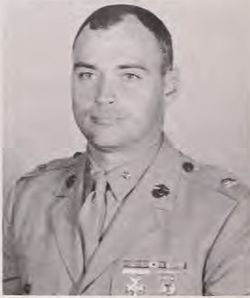 From the April 1968 issue of Shipmate:
Maj. John B. Morris, USMC, died on 10 Jan. in Nevada, when the transport plane from Quantico, Va., in which he was a passenger, crashed on Mt. Tobin during a blizzard. The 12 passengers and seven crewmen aboard were all killed. He had been serving as Operations Officer, Amphibious Warfare Presentation Team, Marine Corps Schools, Quantico. Services and interment were held at Arlington National Cemetery, with full military honors.

Maj. Morris was born in Philadelphia, Pa., and graduated from the Naval Academy in 1955. He completed flight training at the Naval Air Station, Corpus Christi, Tex., in 1958, and the Mountain Leadership and Survival Training Courses at Marine Corps Cold Weather Training Center at Bridgeport, Calif., in 1961. He had served with the 3rd Marine Division at Okinawa; the 1st Marine Division at Camp Pendleton, Calif.; the 3rd Marine Division, Vietnam; the 2nd Marine Air Wing, Cherry Point, N. C. While serving as the S-4 of the 1st Battalion, Third Marines in Vietnam he was awarded the Bronze Star Medal with combat "V," and had been awarded the National Service Medal with star, and the Armed Forces Expeditionary and the Republic of Vietnam Campaign Medals.

Surviving are his widow, the former Irene Pirochta of Owosso, Mich.; a son David 4, and daughter Carla 3, who have been living in Quarters 397C, Marine Corps Base, Quantico; his parents. Col. George W . Morris, USA (Ret.), and Mrs. Morris of 239N. 24th St., Camp Hill, Pa. 17011, and a sister, Mrs. Clarence W . McKee.
John was part of a "10-day Western tour from Quantico Marine Base in Virginia" to discuss amphibious landing tactics.
John is buried in Arlington National Cemetery. He was survived by his wife, Irene, son David, and daughter Carla. (Information courtesy of John's brother-in-law, John Pirochta, via email on April 23, 2018.)
John is one of 34 members of the Class of 1955 on Virtual Memorial Hall.