THOMAS D. MOORE, JR., MAJ, USAF
From USNA Virtual Memorial Hall
Lucky Bag
From the 1955 Lucky Bag: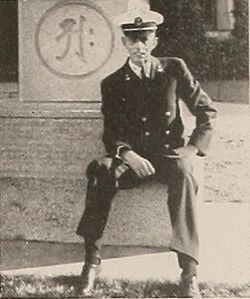 Loss
From the March 1968 issue of Shipmate:
Maj. Thomas D. Moore, Jr., USAF, was killed on 30 Nov. at Cam Rahn Bay, South Vietnam, while on a tactical mission. He was serving as aircraft commander, 483rd Tactical Airlift Wing, 458th Tactical Airlift Squadron. Services were held in the Air Force Academy Chapel, with interment in the Academy Cemetery, Colorado Springs, Colo., on 28 Dec.

Maj. Moore was born in Del Rio, Tex., and enlisted in the Navy prior to entering the Naval Academy, from where he was graduated in 1955. He was Company Commander of the First Company and selected by Who's Who in American Colleges and Universities. He later received a Master's degree in electrical engineering at Stanford University.

He had served at Moore Air Force Base, Ellington Air Force Base, Reese Air Force Base, and at the Air Force Academy from 1961-67. H e had taught physics, electrical engineering and was responsible for establishing the computerized grade and curriculum program now in effect at the Academy.

He is survived by his widow Barbara, and two sons, Thomas D. Moore, III, and Scott P., and a daughter, Barbara Jean, of 902 Fuller Drive, Colorado Springs; his parents, Mr. and Mrs. T. D. Moore of 217 Central St., Del Rio, Tx. 78840, and a sister, Mrs. Lonnie Marshall of Los Angeles, Calif.
From Find A Grave:
A C-7B Caribou (tail number 62-4175) crashed during a routine air transport flight in South Vietnam. As the aircraft approached Qui Nhon the pilot was advised that the weather at the airfield had fallen below safety minimal.

He replied that he would proceed to Nha Trang where the weather was better but the aircraft hit a mountain at 1,850 feet about five miles south of Qui Nhon. The weather at the time consisted of low cloud and rain that reduced visibility to about two miles.

The four crew and 22 passengers, including two US civilians, were killed in the accident.
Tom was the pilot of the aircraft, and is buried in the US Air Force Academy cemetery.
Family
He was married to Barbara E. Moore; his daughter was Barbara Moore; his sons were Thomas D. Moore III and Scott P. Moore, all of Colorado Springs, Colo. Parents: Father, Thomas D. Moore, Sr. of Del Rio, Texas and Mother, Rachel L. Moore also of Del Rio, Texas.
Remembrances
From Wall of Faces:
3 of us lived on the same block. We went to Vietnam. I came back, you and Larry Tatum didn't. Our kids grew up together and I took yours to the rodeo. They should have been able to go with you. BOB DUNHAM, JHAWK32@MYWAY.COM, 3/22/04
Memorials
Tom is among those names on the Vietnam Veterans Memorial in Washington, D.C. As his loss was not due directly to hostile action, though, he does not appear in the Vietnam War section of the Killed In Action panel in Memorial Hall.
Related Articles
Donald Rissi '55 was also in 1st Company.
Thomas is one of 34 members of the Class of 1955 on Virtual Memorial Hall.