JOHN L. PRICHARD, CAPT, USMC
From USNA Virtual Memorial Hall
Date of birth: January 19, 1939
Date of death: January 27, 1968
Age: 29
Lucky Bag
From the 1961 Lucky Bag: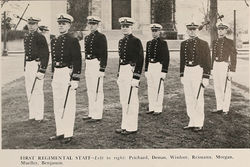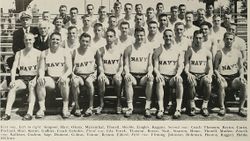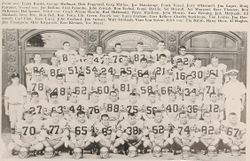 Obituary
From NAPS 1967:
Funeral servies will be held on Monday at Arlington National Cemetery for Marine Capt. John Prichard, 29, former Navy football great, killed in Vietnam on Jan. 27.

Prichard, commanding officer of an infantry company of the 3rd Battalion, 4th Marines, stationed along the Demilitarized Zone, died of wounds received in a fire fight when his company encountered a large number of Viet Cong troops.

A 1961 Naval Academy graduate, Prichard played on the 1960 football team which was 9-1 and appeared in the orange bowl. A halfback, he was the second leading pass receiver and was second to Joe Bellino in punt and kickoff returns. He also was a standout track star. In 1959 he won the Heptagonal broad jump championship.

In additino to this athletic achievements, Prichard was an honor student and a midshipman company commander in his first class year (senior).

A native of Oklahoma City, Prichard has been serving in Vietnam since September 1967. His previous duty station was as assistant football coach at the Naval Academy Preparatory School in Bainbridge, Md. While there he was also the senior Marine officer and was responsible for the military indoctrination of all students at the school.

…

Prichard is survived by his wife, Patricia Anne, his daughter, Kimberly, age 5, his parents, Mr. and Mrs. John Prichard, and a brother, Bob, all of Oklahoma City.
From Find A Grave:
John was the husband of Patricia A. Pritchard and loving father of Kimberlyn R. Pritchard of Oklahoma City OK. He was son of John T. Pritchard and Mary D. Pritchard also of Oklahoma City OK. Capt Pritchard entered service in Annapolis MD on June 7, 1961. Arriving in Vietnam on September 2 1967 he was assigned for duty as the Company Commander of Company I, 3d Battalion, 4th Marines, 3d MARDIV (Rein) FMF.

In the early morning hours of January 27, elements of the 320 NVA launched an attack on positions of the 4th Marines along Route 9, Mikes Hill, and including the Battalion CP (Command Post)in the Cam Lo District of Quang Tri Province. Heavy fighting went on for several days will numerous losses both to the Marines and their aggressors, the NVA. One of the casualties during the battles was Capt Prichard who was killed in action as a result of a gunshot wound from hostile rifle fire.
Career
From Oklahoma Military Hall of Fame:
Captain John Lee "Johnny" Prichard grew up in Oklahoma City and in 1957 graduated Southeast High School where he was an outstanding student and a star athlete. Four years later, in June 1961 he graduated the U. S. Naval Academy, Annapolis, Maryland a Second Lieutenant in the U. S. Marine Corps.

As a Midshipman he played on the 1960 football team that played in the Orange Bowl. He was also a star sprinter and broad jumper on the track team. In 1959 he won the Heptagonal Broad Jumper championship. He was a halfback on the 1961 and 1962 Marine football teams at Marine Corps Base Quantico, Virginia. He served in Vietnam and on 27 January 1968 led repeated frontal assaults on a North Vietnamese Company and was wounded and died of his wounds. He was awarded the Silver Star Medal, Bronze Star Medal with Combat V, Purple Heart, and is buried at Arlington Cemetery, Arlington, Virginia.
John is mentioned several times in U.S. Marines In Vietnam: The Defining Year, 1968 by Jack Shulimson.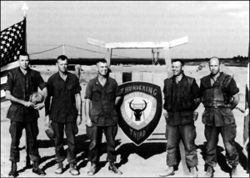 Remembrances
My name is L/Cpl Mike Massing and I served with Captain Prichard in Vietnam in the battle below Camp Carroll and from the beginning of my tour. I have the greatest respect for him as a leader and a Marine. MICHAEL J. MASSING, 11/16/03
John Prichard died while out in front of his men, leading his company, in a frontal assault against an enetrenched NVA force. He was charismatic, courageous, a great leader and held in high regard by all his marines. He died fighting. I was there. PAUL J. HARRIS, 6/18/03
I was a classmate of John's at Southeast High School in Oklahoma City. John was an intelligent and warm individual. He was a gifted athlete and set several school records which remain unmatched to this day. CURTIS BOYDSTON, BOYD39@AOL.COM, 7/25/99
Family
John was "survived by his wife Patricia Anne and his daughter Kimberly, age 5, his parents Mr. and Mrs. John Prichard, and a brother, Bob, all of Oklahoma City."
Silver Star
From Hall of Valor:
The President of the United States of America takes pride in presenting the Silver Star (Posthumously) to Captain John Lee Prichard (MCSN: 0-81650), United States Marine Corps, for conspicuous gallantry and intrepidity in action while serving as Commanding Officer of Company I, Third Battalion, Fourth Marines, THIRD Marine Division (Rein.), FMF, in connection with combat operations against the enemy in the Republic of Vietnam on 27 January 1968. While leading his company on a search and clear operation in Quang Tri Province, Captain Prichard's company came under a heavy volume of automatic weapons and small-arms fire from an estimated reinforced battalion of well-concealed North Vietnamese Army forces. Because of the proximity of his unit to the enemy, he was unable to use supporting arms. Realizing the necessity of gaining fire superiority, he immediately launched an aggressive assault against the enemy emplacements until the lead elements of the company were pinned down by the intense hostile fire, sustaining several casualties. Quickly assessing the situation, he determined that he would have to continue his attack in order to overrun the enemy positions and safely evacuate his unit's casualties. Unhesitatingly, he left the relative safety of his position and maneuvered to the forward point of contact in order to direct his men and regain the momentum of the assault. With complete disregard for his own safety, he moved across the fire-swept terrain firing his rifle and throwing hand grenades until he was mortally wounded. By his bold initiative, gallant fighting spirit and superior leadership, Captain Prichard inspired his men to successfully continue their attack and defeat a numerically superior enemy force, thereby reflecting great credit upon himself and the Marine Corps and upholding the highest traditions of the United States Naval Service. He gallantly gave his life for his country.

Action Date: 27-Jan-68
Service: Marine Corps
Rank: Captain
Company: Company I
Battalion: 3d Battalion
Regiment: 4th Marines
Division: 3d Marine Division (Rein.), FMF
Bronze Star
From Hall of Valor:
The President of the United States of America takes pleasure in presenting the Bronze Star Medal with Combat "V" to Captain John Lee Prichard (MCSN: 0-81650), United States Marine Corps, for heroic achievement in connection with operations against the enemy in the Republic of Vietnam while serving as Commanding Officer of Company I, Third Battalion, Fourth Marines, THIRD Marine Division, on 31 December 1967. While leading his company on a patrol in Quang Tri Province near the Demilitarized Zone, Captain Prichard, observing a small group of North Vietnamese Army soldiers, quickly deployed his men and directed their fire against the enemy. Almost immediately, the Marines came under intense small arms, automatic weapons and mortar fire from a company-size enemy force, well entrenched in a hedgerow. Quickly assessing the situation, Captain Prichard displayed exceptional leadership and tactical ability as he skillfully maneuvered his men into a well integrated defensive perimeter and supervised their fire against the hostile positions. Completely disregarding his own safety, he exposed himself to enemy fire as he continually moved among his men to encourage them and ensure maximum firepower was being delivered against the North Vietnamese. When informed of the location of enemy mortar sites, Captain Prichard resourcefully utilized the aerial observer to adjust counter-mortar fire that destroyed one hostile mortar position and silenced the remainder. After the aerial observer was clear of the enemy positions, friendly artillery fire was called in and accurately adjusted against the North Vietnamese Army force. Observing a Marine seriously wounded forward of the perimeter and exposed to continuing hostile fire, Captain Prichard, ignoring the danger to his own life, unhesitatingly left his relatively safe position and courageously moved to the side of the injured Marine. With the aid of a companion, and despite the heavy volume of enemy fire, he carried the wounded Marine to a covered position within the perimeter where first aid was immediately administered. He then called for and accurately directed the attacks of armed UHY-1E helicopters against the North Vietnamese positions and requested a medical evacuation helicopter. After establishing an emergency landing zone, he directed elements of his company in obtaining fire superiority that allowed the aircraft to land and evacuate the injured. Due largely to his sound, tactical judgment and composure under fire, he was instrumental in defeating the enemy force, resulting in twenty-seven North Vietnamese Soldiers confirmed killed and five probable killed while sustaining only four friendly casualties who were safely evacuated. Captain Prichard's superior leadership, courage and selfless devotion to duty at great personal risk inspired all who observed him, contributed materially to the accomplishment of the unit's mission and were in keeping with the highest traditions of the Marine Corps and of the United States Naval Service. (Captain Prichard is authorized to wear the Combat "V".)

Action Date: December 31, 1967
Service: Marine Corps
Rank: Captain
Company: Company I
Battalion: 3d Battalion
Regiment: 4th Marines
Division: 3d Marine Division (Rein.), FMF