JOHN P. SPEARS, LTJG, USN
From USNA Virtual Memorial Hall
Birthdate & Date of Loss
| | |
| --- | --- |
| Date of birth: | June 25, 1918 |
| Date of death: | August 10, 1942 |
| Age: | 24 |
Lucky Bag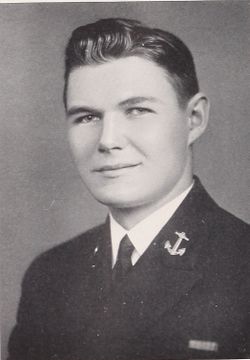 From the 1940 Lucky Bag:
JOHN PRATT SPEARS

Chattanooga, Tennessee

Although John's life as a Navy Junior has taken him to many scattered stations he still claims Tennessee as his home state. His early life fitted him well to attain the success that he has achieved at the Academy and will undoubtedly attain in the Fleet. A conscientious worker, John has had very few academic worries. In common with other lightly burdened individuals he has had more time for his other pursuits, namely: boxing, track, and most important, of course — the fair sex. John's four years here have won for him a host of friends, and we all look forward to seeing him again in the Fleet.
Loss
John was lost in USS Vincennes (CA 44) during the Battle of Savo Island on August 9, 1942.
His father was listed as next of kin.
Career
From History of Class of 1940:
Johnny, a native of Tennessee and a Navy junior, was a member of the varsity boxing squad at the Academy. He breezed through the years on the Severn with aplomb. On graduation, he reported on board VINCENNES, a 10,000-ton Washington treaty heavy cruiser, and was initially assigned as 2nd Division Junior Officer. By late summer, 1941, Johnny was one of only four qualified Officers-of-the-Deck, which assignment continued for the remaining year of the ship's life. In July, he became 2nd Division Officer, with battle station as Turret Officer of the triple-gunned Turret 2 of the 8"/50 main battery.

After "neutrality patrols" and convoy duty in the Atlantic, VINCENNES joined the Pacific Fleet in March, 1942, where he participated in the launching of the Doolittle raid on Tokyo and the Battle of Midway.

On August 7, 1942, the ship was a member of the gunfire support force at the initial landings on Guadalcanal. In the ensuing surface Battle of Savo Island during the early hours of August 9, VINCENNES was in the northern force, leading cruisers QUINCY and ASTORIA and destroyers WILSON and HELM. The attacking Japanese force of five heavy and two light cruisers separated into two columns as they came north, straddling the U.S. force. VINCENNES' main battery commenced firing during condition watch, ceased when the ship's captain came to the bridge, then resumed. The ship fired two salvos under director control, but within the early minutes both of VINCENNES' main battery directors were shot out of commission. At about that time, Turrets 1 and 2 received heavy-caliber hits and part of a shell entered the control booth of Turret 2; Spears was probably initially wounded at that time and the turret lost power. The turret shortly afterward received two direct 8-inch hits, one of which penetrated the faceplate, and was thereafter out of commission. The ship survived only a short time afterwards and finally sank.

Lieutenant (junior grade) Spears and his junior turret officer were both killed during the Battle of Savo Island and their bodies remained with the ship when it sank. Johnny was posthumously awarded the Purple Heart. His surviving shipmates remember him with deep pride and respect. (Submitted by Ray Hundevadt)