JAY A. NOBLE, JR., LTJG, USN
From USNA Virtual Memorial Hall
Birthdate & Date of Loss
| | |
| --- | --- |
| Date of birth: | unknown |
| Date of death: | August 17, 1943 |
| Age: | unknown |
Lucky Bag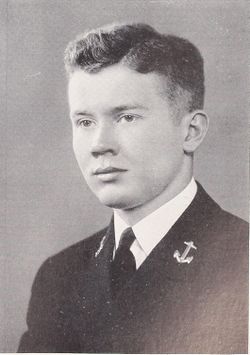 From the 1940 Lucky Bag:
JAY ALVIN NOBLE, JR.

Lockport, New York

A former Cornellian. Jay carried on his work on college publications by giving us the 1940 "Reef Points," among other things. He tried crew, but ended up in the water at water polo, which was a hundred and eighty degrees out of phase with another of his activities, the orchestra. Jay is also an excellent photographer. His pictures show the results of contemplation and a lot of hard work. A quiet, unassuming personality, coupled with a sense of responsibility, ensure his success at whatever he undertakes. In a spare moment he can always be found reading a book — usually a deep one. Best of all, he makes a swell friend.
Loss
Jay was lost in an aircraft as a passenger near Kodiak, Alaska, on August 17, 1943.
From Wartime Press, this undated passage:
Plane With 14 Missing in Alaska - A U.S. Navy plane with a crew of four and ten passengers enroute from Kodiak to Whitehorse, Alaska was reported overdue by the Navy Department, which notified next of kin of those aboard that the crew and passengers were missing. The flight was a routine one from Kodiak to Seattle, Wash. Three planes started on the trip and were forced to fly by instrument soon after taking off. Two made their way through the bad weather to Whitehorse. Naval aircraft have been making searches for the missing plane and other agencies were asked to assist in the search.

Those aboard the missing plane were Commander Joyce A. Ralph, USN; Lieut. Comdrs. Burton Lee Doggett, USN, Jerome H. Sparbo. USNR and Paul H. Tobelman, USN; Captain Arthur Barrows. USMC; Lieuts. Joseph A. Crook, USN and Thomas E. Johnson. Jr. (ChC), USN; Lieuts. (j.g.) Thomas G. Cherikos, USNR. Charles E. Deterding, USN and Jay A. Noble, Jr.. USN: Ensign Charles L. Mixon, USNR; Charles E. Barber. ACRM. USN; H. A. Scott, ACRM, USN, and C O. Walton, AMM2c. USN.
Related Articles
Charles Deterding, Jr. '40 was also lost in this crash.