CHARLES E. DETERDING, JR., LTJG, USN
From USNA Virtual Memorial Hall
Birthdate & Date of Loss
| | |
| --- | --- |
| Date of birth: | November 5, 1916 |
| Date of death: | August 17, 1943 |
| Age: | 26 |
Lucky Bag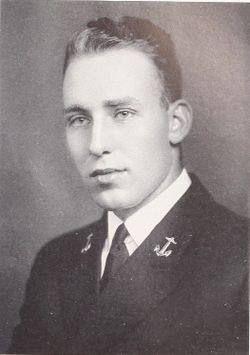 From the 1940 Lucky Bag:
CHARLES ERNEST DETERDING, JR.

Youngstown, Ohio

Our hero sailed onto our horizon from Ohio. For two years a confirmed Red Mike, he at last sallied forth and became a regular fixture at Academy hops. A spasmodic athlete, he spends most of his time placing the Log on a paying basis. His favorite pastime, however, is arguing, in which he is a pastmaster, being able to support his convictions with a world of astounding data. "Now my old man told me— " is the only required signal, and the merry round has started all over again. His personality has made him a grand roommate, and has won him many fast friends who will follow him either in or out of the service.
Loss
Charles was lost in an aircraft as a passenger near Kodiak, Alaska, on August 17, 1943.
From Wartime Press, this undated passage:
Plane With 14 Missing in Alaska - A U.S. Navy plane with a crew of four and ten passengers enroute from Kodiak to Whitehorse, Alaska was reported overdue by the Navy Department, which notified next of kin of those aboard that the crew and passengers were missing. The flight was a routine one from Kodiak to Seattle, Wash. Three planes started on the trip and were forced to fly by instrument soon after taking off. Two made their way through the bad weather to Whitehorse. Naval aircraft have been making searches for the missing plane and other agencies were asked to assist in the search.

Those aboard the missing plane were Commander Joyce A. Ralph, USN; Lieut. Comdrs. Burton Lee Doggett, USN, Jerome H. Sparbo. USNR and Paul H. Tobelman, USN; Captain Arthur Barrows. USMC; Lieuts. Joseph A. Crook, USN and Thomas E. Johnson. Jr. (ChC), USN; Lieuts. (j.g.) Thomas G. Cherikos, USNR. Charles E. Deterding, USN and Jay A. Noble, Jr.. USN: Ensign Charles L. Mixon, USNR; Charles E. Barber. ACRM. USN; H. A. Scott, ACRM, USN, and C O. Walton, AMM2c. USN.
Related Articles
Jay Noble, Jr. '40 was also lost in this crash.