BURTON L. DOGGETT, LCDR, USN
From USNA Virtual Memorial Hall
Lucky Bag
From the 1924 Lucky Bag:
Loss
Burton was lost when the transport plane he was aboard crashed near Kodiak, Alaska, on August 16, 1942.
From Wartime Press, this undated passage:
Plane With 14 Missing in Alaska - A U.S. Navy plane with a crew of four and ten passengers enroute from Kodiak to Whitehorse, Alaska was reported overdue by the Navy Department, which notified next of kin of those aboard that the crew and passengers were missing. The flight was a routine one from Kodiak to Seattle, Wash. Three planes started on the trip and were forced to fly by instrument soon after taking off. Two made their way through the bad weather to Whitehorse. Naval aircraft have been making searches for the missing plane and other agencies were asked to assist in the search.

Those aboard the missing plane were Commander Joyce A. Ralph, USN; Lieut. Comdrs. Burton Lee Doggett, USN, Jerome H. Sparbo. USNR and Paul H. Tobelman, USN; Captain Arthur Barrows. USMC; Lieuts. Joseph A. Crook, USN and Thomas E. Johnson. Jr. (ChC), USN; Lieuts. (j.g.) Thomas G. Cherikos, USNR. Charles E. Deterding, USN and Jay A. Noble, Jr.. USN: Ensign Charles L. Mixon, USNR; Charles E. Barber. ACRM. USN; H. A. Scott, ACRM, USN, and C O. Walton, AMM2c. USN.
The aircraft was never located, and all 14 passengers and crew were declared dead a year and a day following their disappearance. The aircraft was a part of Transport Squadron (VR) 2.
His wife was listed as next of kin; he was also survived by his son, Burton Jr., a member of the Naval Academy Class of 1951. (Burton Lee Doggett III died in 2017.)
Career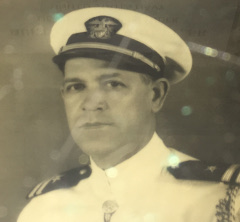 He had previously had command of USS Gilmre (DD 233), from July 1940 to August 1941.
Related Articles
Joyce Ralph '23, Paul Tobelman '26, Joseph Crook '36, Charles Deterding, Jr. '40, and Jay Noble, Jr. '40 were also passengers aboard this aircraft.
Burton is one of 41 members of the Class of 1924 on Virtual Memorial Hall.