JOHN R. MONAGHAN, ENS, USN
From USNA Virtual Memorial Hall
Date of birth: March 26, 1873
Date of death: April 1, 1899
Age: 26
Lucky Bag
From the 1895 Lucky Bag:
Biography & Loss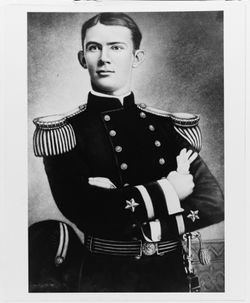 From Naval History and Heritage Command:
John Robert Monaghan, born on 26 March 1873 in Chawelah, Wash., his parents were James and Margaret (McCool) Monaghan. His parents desired to give him superior educational advantages under the auspices of the church to which they belonged, but the facilities for Catholic instruction were limited in Washington in those days, so that the boy at the age of eleven was sent to the school of the Christian Brothers -- St. Joseph Academy, at Oakland, Calif. He attended that school and also another brothers' school in Portland, Ore., until the Jesuit Fathers established Gonzaga College in Spokane in 1887.

Monaghan then enrolled as one of the first eighteen students and after four years spent in that institution, he took the examination held in Spokane in 1891 for the Military Academy at West Point and the Naval Academy at Annapolis, receiving the highest percentage in each of these examinations, so that he was entitled to make his choice of appointments. Although it was his original wish to go to West Point, he generously waived that preference in favor of the next applicant, the son of an old Army officer who heartily desired the appointment. He received his appointment to the Naval Academy on 7 September 1891. Classmates wrote "I've got a drop of the Irish blood in me mesilf," as a nod to his ancestry, and he played baseball at the Academy, on both the class team (1892, 1893 and 1894), and on the Academy nine (1892 and 1894), playing right field during the 1894 season. He graduated in June 1895, the first from the state of Washington to graduate from the Naval Academy.

As a passed midshipman he served on board the cruiser Olympia (Cruiser No. 6), flagship of the Asiatic Station. He was promoted to ensign in July 1897 and was assigned to the monitor Monadnock and the gunboat Alert. He was later transferred to the cruiser Philadelphia (Cruiser No. 4), flagship of the Pacific Station in July 1898. Calling at Apia, Samoa, on 6 March 1899, Philadelphia encountered an unstable political climate, created by rival native factions and spurred on by German intrigue, which soon erupted into open hostility.

During a combined reconnaissance of Americans, British, and Samoans near Apia on 1 April 1899, the American detachment, from Philadelphia, under the command of Lt. Philip V. Lansdale, came under fire from hostile rebel Samoans under Chief Mataafa "which it was impossible to withstand". During the ensuing retreat, Lansdale fell, wounded, as he attempted to cover the retreat with a machine gun. Monaghan seized a rifle "from a disabled man [to make] a brave defense." The Samoans rushed them. Ensign Monaghan, one observer later wrote, "stood steadfast by his wounded superior and friend; one rifle against many, one brave man against a score of savages. He knew he was doomed. He could not yield. He died in heroic performance of duty..."

The remains of Ensign Monaghan were brought back to the United States on Philadelphia and interred in Spokane, where every honor was paid his memory. On 25 October 1906, a bronze statue was unveiled in Spokane, by his sister, Agnes, which was given by the citizens of the state of Washington.
He is listed on the killed in action panel in the front of Memorial Hall under the heading "SAMOAN CAMPAIGN 1899."
Namesake
USS Monaghan (Destroyer No. 32) was named for John; the ship was sponsored by his sister.
USS Monaghan (DD 354) was also named for him; this ship was sponsored by his niece.
Related Articles
Philip Lansdale '77 was also lost in this action.
John is one of 6 members of the Class of 1895 on Virtual Memorial Hall.