JOHN R. RICHARDSON, LTJG, USN
From USNA Virtual Memorial Hall
Date of birth: February 7, 1935
Date of death: April 8, 1963
Age: 28
Lucky Bag
From the 1960 Lucky Bag:
Loss
It is with deep sorrow that we announce the death of Rich who was killed in an aircraft accident on board USS Saratoga (CV 60) on 8 April 1963 while operating in the Mediterranean. Although the circumstances surrounding his fateful death were not made available to us, the news was an added shock to our already grief-stricken class after the loss of our boys in THRESHER the same month. Rich's loss is a great one to all who knew him, even as far back when he was a Marine at NAPS. We shall always remember him for his quiet, resolute and friendly manner. To his family we extend our heartfelt sympathies. Shipmate, August 1963
From Ejection history:
Aircraft went into the water while attempting to photograph a Russian trawler.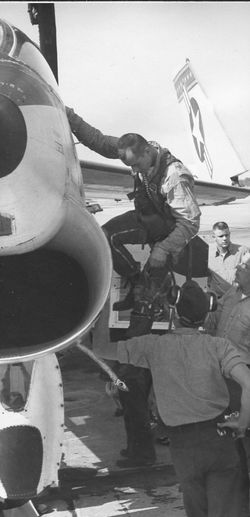 John is one of 28 members of the Class of 1960 on Virtual Memorial Hall.