RONALD C. BABCOCK, LTJG, USN
From USNA Virtual Memorial Hall
Lucky Bag
From the 1960 Lucky Bag:
Obituary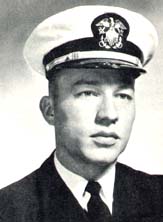 Ronald Clare Babcock was born on March 6, 1938, in Fullerton, Nebraska. In 1942, the family moved to a farm in Valley County, Nebraska, and it was in this community that he spent his early boyhood. He attended district 42 school, a one-room schoolhouse, for 8 years. Ronald attended Ord High School at Ord, Nebraska, where he participated in sprots, was a member of the school band, and on the staff of the yearbook. Ronald received statewide recognition for his football ability, and was captain of the team during his senior year. He was president of his junior class and a member of the National Honor Society, of which he was president, during his senior year. In 1956, Ronald was valedictorian of his graduating class, and received a scholarship from the University of Nebraska.

Entering the U.S. Naval Academy at Annapolis, in June 1956, he was graduated with the class of June, 1960. ronald volunteered for submarine duty, and was enrolled in the Submarine School at the U.S. Naval Submarine Base, New London, Connecticut. Successfully completing the basic course, he was then selected for advance training in nuclear power and after completing the one-year course, he was assigned to the USS Thresher (SSN 593), in March 1962.

Ronald was married to the former Martha Elizabeth Robertson of Rockville, Md. He is also survived by his parents, Gilvert Scott and Arduce Leone Babcock of Lincoln, Nebraska; a sister, Barbara Gail; and his maternal grandmother, Mrs. Pearle Stevens of Fullerton, Nebraska.
Shipmate
After graduation Ron commenced nuclear submarine training in New London, Ct. in July and upon completion reported aboard USS Thresher (SSN 593). In 1962 he married Martha Robertson of Rockville, MD. Tragically, he was lost, along with classmate Jim Henry, in the sinking of Thresher in April 1963. His daughter, Beth, was born after his death.

Tragedy befell the Class of 1960 with the loss of USS Thresher (SSN 593) on 10 April 1963, for on board were two of our classmates, Ron Babcock and Jim Henry. How it all happened, no one knows, but we do know that we will miss these two competent young sailors of the deep who gave their lives to what General MacArthur calls "the most worthy of causes: service to our country". Shipmate, May 1963
Related Articles
Philip Allen '45, John Billings '50, John Harvey '50, Robert Krag '50, Michael DiNola '53, Robert Biederman '54, Merrill Collier '56, John Wiley '61, Guy Parsons, Jr. '59, James Henry, Jr. '60, and John Grafton '61 were also lost when USS Thresher (SSN 593) sank with all hands on April 10, 1963.
Ronald is one of 28 members of the Class of 1960 on Virtual Memorial Hall.