JOHN W. HARVEY, LCDR, USN
From USNA Virtual Memorial Hall
Date of birth: September 24, 1927
Date of death: April 10, 1963
Age: 35
Lucky Bag
From the 1950 Lucky Bag:
Obituary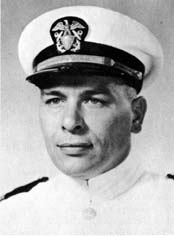 John Wesley Harvey was born on September 4, 1927, in Bronx, N.Y. As a child, he moved with his family to Philadelphia, where he resided during his preservice years. He attended Henry Edmunds Elementary School, Woodrow Wilson Junior High School, and Frankford High School, and honor student throughout.

During his high school years, he was a member of the student board, Victory Corps, and also served as advertising manager of the school newspaper. John also participated in sports, and was a member of the varsity football and baseball teams. Upon graduating high school, John was awarded the Board of Education Scholarship, with full tuition, at the University of Pennsylvania. He also received the Ellis A. Gimbel Citizenship Award, and was selected to the "One Hundred Club of Philadelphia" whose members are picked by the school principals and coaches from students having the highest combined standing in scholarship and athletics.

"Wes" was enrolled in the Moore School of Electrical Engineering, University of Pennsylvania, from February 1945 until September 1946, when he won a long-desired appointment to the Naval Academy. While at Pennsylvania, Wes maintained honor grades, played varsity football, and was president of Phi Kappa Psi fraternity.

His naval career began at the Naval Academy in September 1946, when he was sworn in as a midshipman, class of 1950.

During his Academy years, he continued to excel in academics in addition to starring in athletics, and participating in a full schedule of extracurricular activities.

Graduated and commissioned ensign in June 1950, Wes received his orders to report to his first ship, the aircraft carrier U.S.S. Coral Sea (CVA 43), as assistant navigator. A volunteer for submarines, he was selected for training and graduated from submarine school in July 1951, standing 3 in a class of 77.

While serving in submarine U.S.S. Sea Robin (SS 407), he was designated qualified in submarines and selected for advanced training in nuclear propulsion. He received this training at the Westinghouse's Bettis Laboratory in Pittsburgh, Pennsylvania, and Idaho Falls, Idaho. In July 1955, he reported to U.S.S. Nautilus (SSN 571) and remained with that command until August 1958. During that time he participated in two Arctic cruises, the second of which was climaxed by the first submerged transit of the north polar region and earned the crew a Presidential Unit Citation.

After more than a year as first engineer of a new prototype reactor in Windsor, Connecticut, Wes commissioned the nuclear-powered submarine U.S.S. Tullibee (SSN 597), as engineering officer.

In May 1961, he was selected as executive officer of Sea Dragon (SSN 584), based at Pearl Harbor. In Sea Dragon, Wes participated in the historic rendezvous with Skate (SSN 578) at the North Pole in 1962.

A citation for service aboard Sea Dragon under the ice was to have been presented to John upon his return to the New London area, but was instead presented to his wife at a brief ceremony in July 1963.

John Wesley Harvey assumed command of the U.S.S. Thresher (SSN 593) in January 1963, following 3 months of duty at the Naval Reactors Branch of the Bureau of Ships.

John is survived by his widow, Irene Harvey; two sons, John Wesley, Jr.; Bruce Walter; parents, Mr. and Mrs. Manning J. Harvey of Philadelphia; and a brother, Mr. M. J. Harvey, Jr., of Stratford, Connecticut.
From USNA 1950:
Wes was aboard the USS Coral Sea as Assistant Navigator before beginning his distinguished career in submarines. After submarine school he went to the USS Sea Robin. He was assigned to USS Nautilus for the remarkable North Pole transit, then was chief engineer on USS Tullibee. He later commanded the USS Thresher, which carried Wes and his crew into the depths for their last dive.
He has a memory marker in the US Naval Academy Cemetery.
Related Articles
Neil Armstrong, III '50, Silas Hart, Jr. '50, and James Bowers '50 were also a member of the 22nd Company.
Philip Allen '45, John Billings '50, Robert Krag '50, Michael DiNola '53, Robert Biederman '54, Merrill Collier '56, John Wiley '61, Guy Parsons, Jr. '59, James Henry, Jr. '60, Ronald Babcock '60, and John Grafton '61 were also lost when USS Thresher (SSN 593) sank with all hands on April 10, 1963.
John is one of 37 members of the Class of 1950 on Virtual Memorial Hall.
The "category" links below lead to lists of related Honorees; use them to explore further the service and sacrifice of the alumni in Memorial Hall.