MERRILL F. COLLIER, LT, USN
From USNA Virtual Memorial Hall
Date of birth: February 17, 1932
Date of death: April 10, 1963
Age: 31
Lucky Bag
From the 1956 Lucky Bag: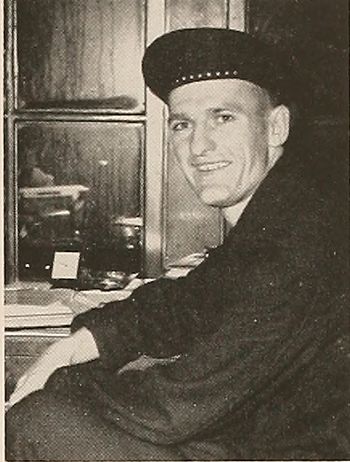 Obituaries
From USNA '56:
Merrill Collier was without question our class leader. He came to the Academy following three years in the fleet. Merrill was, and always will be our Class President, served two sets as Brigade Commander, and received three prestigious awards at graduation for his officer-like qualities.

He served on the destroyers J. C. OWENS and FARRAGUT before volunteering for submarines. He reported aboard USS THRESHER shortly before that ship sailed on her last voyage, and was lost when THRESHER tragically went down on 10 April 1963. Merrill's wife Helen has stayed close to his '56 classmates, and expects to join us for the 50th. She also graciously participates every year during the Commissioning Week Prizes and Awards Ceremony, by presenting the Merrill F. Collier Award to the member of the graduating class who achieves the highest marks on the Professional Competency Review. Her letter that follows describes Merrill's legacy:

"Since the 40th reunion, there have been lots of changes in our family. I completed the doctorate at Teachers College Columbia, retired from the principalship, and now teach at Princeton University in their Teacher Preparation Program. Our children, Sherrill, Neal and Merrill, have their own families with nine wonderful grandchildren, who are the joy of my life! Sherrill and husband, Michael DeGenova, teach in Flemington, NJ where Sherrill is a speech therapist and Michael is a special education teacher. Their oldest daughter, Dorothy (17) plays the flute in the orchestra, paints, acts, and plans to enter college in the Fall. Therese (14), a freshman, loves softball and the violin. John (10) likes to draw, and Maria (7) is an artistic second-grader. Neal Collier and his wife, Carol, live in Trappe, PA where Neal is a Manager with Barry‑Wehmiller Design Group, and Carol is a computer network specialist, working with companies in Philadelphia, New York, and Washington, DC. Benjamin (17) will enter college in the Fall to study film, Katherine (12) plays soccer and enjoys acting. William (9) is in fourth grade, plays soccer and is active in Cub Scouts. Merrill Collier (II), his wife Kristine, and their children Gregory (6) and Jennifer (4) recently made the big move to Santa Rosa, California. Merrill took a position as international marketing manager for Medtronic, where he recently assisted in the European launch of a new drug-eluting coronary stent, and his wife Kristine is District Sales Manager for Allied Domecq Wines."
Merrill Francis Collier was born on February 17, 1932, near New Richmond, Ohio, the son of Mr. and Mrs. Ethet Collier.

Prior to enlisting in the Navy in August 1949, Merrill was graduated from Bethel-Tate High School where he was class president during his junior and senior years. In 1951, he was ordered to the Naval Academy Preparatory School at Bainbridge, Maryland. Here he organized the first drill team for the school. He was then appointed to the Naval Academy in 1952. While undergoing training at the Academy, Merrill was class president for 3 years and was also appointed brigade commander for both the fall and spring midshipmen staffs of 1956. During his first year at the Academy, Merrill was elected to Who's Who Among Students in American Universities and Colleges.

Merrill was commissioned ensign upon graduating the Academy with the class of 1956. His first sea duty assignment was aboard the destroyer USS. J. C. Owens (DD 776), where he served as engineering officer. In January 1959, he was ordered to nuclear power training at New London, Connecticut. After this training, he was ordered to duty to the Nuclear Power Test Unit at Idaho Falls, Idaho. While there, he qualified as reactor engineer.

In September 1961, he was ordered to USS Farragut (DLG 6) for duty as engineering officer. One year later, Merrill received orders to undergo submarine training at New London, Connecticut.

After completing the course of instruction at the submarine school, Merrill received orders to the submarine USS Thresher (SSN 593), and reported to that command in April 1963.

During his naval service, Merrill had earned the Navy Occupation Service Medal with Asia Clasp, National Defense Service Medal, Korean Service Medal, and the United Nations Service Medal.

Merrill was survived by his widow the former Helen Harveycutter of Silver Spring, Maryland; two children, Sherrill L. and Neal D.; and his mother, Mrs. C. Warren Carnes.
Shipmate
From the Class of 1956 column in the May 1963 issue of Shipmate:
It is with deep regret that I report the death of our class president, Lt. MERRILL F . COLLIER, USN, who was serving aboard the USS THRESHER when she made her last voyage on Wednesday, 10 April 1963.

Words cannot adequately express the deep admiration and respect we of the Class of 1956 had for Merrill. These words taken from the pages of the 1956 Lucky Bag—"truly an outstanding member of his class"—will always ring true and his presence will long be felt and remembered by us all.

Merrill came to the Academy after serving 3 years in the Navy as an electronics technician 3rd class, during which time he served in Korea. As we all know he excelled both academically as well as extra-curricularly while at the Academy. The fact that he was elected and served as class president all 3 years speaks for the high esteem in which he was held by all of his classmates. He further served as a member of the honor, hop and brigade activities committees. His 4 years as a midshipman culminated with his being named brigade commander both the fall and spring sets. Also, he was nominated for Who's Who Among Students in American Universities and Colleges.

During June Week activities 1956 Merrill was awarded the Class of 1897 prize for having contributed most by his officer-like qualities to the naval spirit and loyalty within the brigade. He received the Class of 1879 memorial award for outstanding leadership, and also received a letter of commendation from the Superintendent for his outstanding officer-like qualities. He stood 1st in the course in conduct and aptitude combined, and for this received the Fleet Reserve Association prize.

After graduation Merrill served aboard the USS J. C. Owens (DD-776) where he finished his 1st tour as engineering officer. From destroyers he was ordered to nuclear power training followed by duty at the Nuclear Power Test Unit at Idaho Falls. In September 1961, having become well versed in nuclear propulsion, he was sent to the USS FARRAGUT (DLG-6) for duty as engineering officer. A year later his request for submarine training was honored and he began his sub schooling at New London. In April of this year he went to serve aboard the THRESHER.

To his widow Helen, his family and relatives, we offer our condolences. We grieve with you the loss of your loved one.
From the Class of 1957 column in the same issue:
The following telegram was received by the editor:

"FOR INCLUSION CLASS OF 1957 COLUMN. NOT ONLY FELLOW SUBMARINERS BUT THE ENTIRE CLASS OF 1957 EXPRESSES THEIR SADNESS OVER THE LOSS OF THE USS THRESHER AND HER CREW. MANY OF US PERSONALLY KNEW MERRILL COLLIER 1956 AND CALLED HIM FRIEND. THOSE OF US WHO KNEW BUT HIS FACE AND NAME WILL ALWAYS REMEMBER HIM AS A NAVAL OFFICER WHO COMMANDED AND DESERVED THE HIGHEST POSITION OF RESPECT AND ADMIRATION. WE HUMBLY OFFER OUR CONDOLENCES AND PRAYERS TO THOSE FAMILIES IN NEED OF STRENGTH IN THIS TIME OF SORROW.

DAVID L. MITCHELL, LT USN"
Memorials
The United States Naval Academy lists the "LT Merrill F. Collier Award" as one of the Academy-wide prizes and awards; it is administered/awarded by Leadership, Ethics and Law.
Related Articles
George Tsantes, Jr. '55 and Gregory Black '55 were also members of 18th Company.
Philip Allen '45, John Billings '50, John Harvey '50, Robert Krag '50, Michael DiNola '53, Robert Biederman '54, John Wiley '61, Guy Parsons, Jr. '59, James Henry, Jr. '60, Ronald Babcock '60, and John Grafton '61 were also lost when USS Thresher (SSN 593) sank with all hands on April 10, 1963.
Merrill is one of 26 members of the Class of 1956 on Virtual Memorial Hall.
The "category" links below lead to lists of related Honorees; use them to explore further the service and sacrifice of the alumni in Memorial Hall.