JOHN W. SINCAVICH, LT, USN
From USNA Virtual Memorial Hall
Birthdate & Date of Loss
| | |
| --- | --- |
| Date of birth: | May 14, 1920 |
| Date of death: | March 28, 1945 |
| Age: | 24 |
Lucky Bag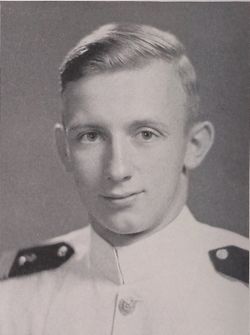 From the 1943 Lucky Bag:
JOHN WILLIAM SINCAVICH

Bridgeport, Ohio

Jocundity to the n'th degree—that's Siny thru and thru. A born jitterbug, he amazed us not only with his dance steps, but also with his variety of fancy dives in the natatorium. A year of college helped him to beat the system, and gave him plenty of time for his favorite sport, swimming. Whenever anything strange, tricky, or difficult came along, from a new dive to a new line, Siny was the man to try it. Confining his snaking to one coast at a time, he only dragged every other week, but the gals weren't any happier to see him than we were, and we are glad he came in with '43.
He was a member of the swim team.
The Class of 1943 was graduated in June 1942 due to World War II. The entirety of 2nd class (junior) year was removed from the curriculum.
Loss
John was lost when USS Trigger (SS 237) was sunk by combined Japanese air and surface attack on March 28, 1945.
His wife was listed as next of kin.
John was awarded the Bronze Star; unable to find a citation.