JOSEPH R. DEFREES, JR., LT, USN
From USNA Virtual Memorial Hall
Birthdate & Date of Loss
| | |
| --- | --- |
| Date of birth: | September 12, 1920 |
| Date of death: | November 19, 1943 |
| Age: | 23 |
Lucky Bag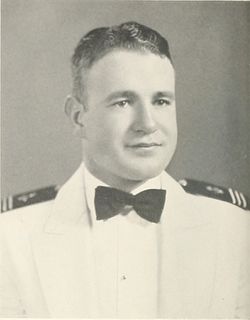 From the 1942 Lucky Bag:
JOSEPH ROLLIE DEFREES, JR.

Joe, Deefy, Punkin

Though "all me bloomin' life, sir" is the traditional answer, in Joe's case it's true. With a lengthy navy background, he has a weather eve cast to continue the family tradition. In particular, Joe has a way with the fairer sex, a way which neither we nor they can quite understand. His ease with the academics as well, makes for a prediction of more than a small measure of success in the Service.

Football 4, 3, Manager; Battalion Soccer; Lacrosse 4; Battalion Lacrosse; Boat Club 4, 3, 2, Ketch Captain 1; 2 Stripes.
The Class of 1942 graduated on December 19, 1941, less than two weeks after the United States entered World War II. The class had previously been scheduled to graduate in February 1942.
Loss
Joseph was killed by a shell from a Japanese destroyer that struck USS Sculpin (SS 191) shortly before she was sunk on November 19, 1943.
Joseph's mother was sponsor of the boat, which had been commissioned before the war. His father retired as a Rear Admiral.
Silver Star
From Hall of Valor:
SYNOPSIS: Lieutenant Joseph R. Defrees, Jr. (NSN: 0-123693), United States Navy, was awarded the Silver Star (Posthumously) for gallantry in action while serving aboard the United States Submarine U.S.S. SCULPIN (SS-191) during war patrols in enemy-controlled waters during World War II. His gallant actions and dedicated devotion to duty, without regard for his own life, were in keeping with the highest traditions of military service and reflect great credit upon himself and the United States Naval Service.

General Orders: American Battle Monuments Commission
Action Date: World War II
Service: Navy
Division: U.S.S. Sculpin (SS-191)